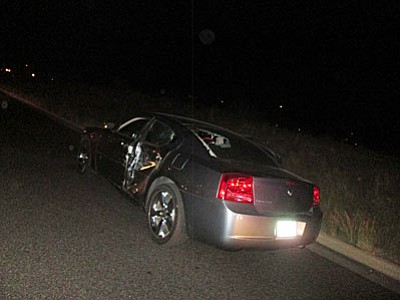 Originally Published: September 25, 2015 9:26 a.m.
COTTONWOOD - Two teenage boys were taken to hospitals in Cottonwood and Flagstaff Thursday following a car-vs.-motorcycle crash on Arizona 260.
Police were called to the crash at SR 260 and Rodeo Drive at 7:21 p.m.
According to a report from Cottonwood PD, two 16 year old boys were riding a motorcycle along SR 260 and ran the red light at Rodeo Drive and struck the driver side of a vehicle making a left turn from Rodeo Drive onto northbound State Route 260.
The motorcycle driver from Cottonwood was transported to Verde Valley Medical Center for treatment of injuries. The passenger, who lives in Flagstaff, was flown to Flagstaff Regional Medical Center.
The driver of the car, a 30-year-old Cottonwood woman, was transported to VVMC.
Police said the investigation into the crash was aided by the fact that a Cottonwood officer was stopped at the intersection and captured the crash with his onboard camera.
The Cottonwood Police Department was assisted by Arizona Department of Public Safety, ADOT, YCSO, and the Clarkdale Police Department.