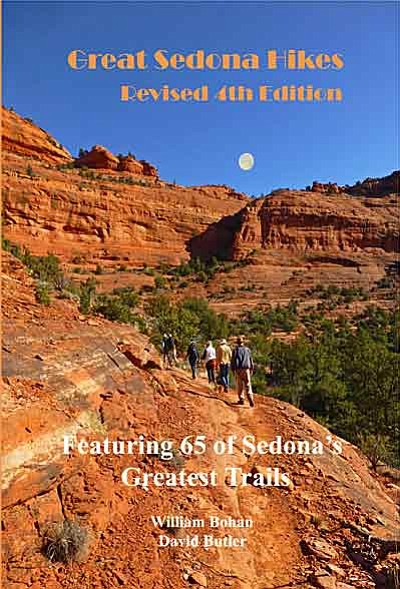 Originally Published: April 4, 2016 12:09 p.m.
William Bohan and David Butler announce the publication of their latest hiking guide, Great Sedona Hikes Revised 4th Edition.
This is the latest edition in the series of hiking guides written by Bohan and Butler.
"We are very proud of this 4th edition," says Bohan. "When we started in 2010, the 1st edition only had 50 hikes. This latest edition has 65 of the best trails in Sedona."
Butler points out, "The 4th edition has several features not found in earlier editions. It has estimated hiking times and trail popularity ratings for each of the included hikes. Plus it contains suggestions for loop hikes by combining several trails into a loop. And it includes several new trails just opened by the Forest Service."
"We updated all the maps, photos and trail descriptions. We have also included a link to many color photos for each included hike using QR code technology," says Bohan. "We are in close contact with the Forest Service and we are constantly hiking the trails. So when there is a change in a trail, our print-on-demand publishing strategy means that we are able to incorporate revisions immediately to keep our guide up-to-date. Our books are printed in the USA, not China."
Great Sedona Hikes revised 4th Edition is available at many local retailers including the Red Rock Ranger Station Visitor Center, Canyon Outfitters, the Worm Music and Books and the Sedona Chamber of Commerce Uptown Visitor Center.
More like this story