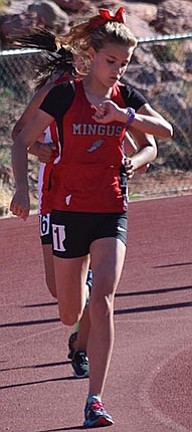 Originally Published: April 28, 2016 1:45 p.m.
ALHAMBRA - It was the last chance for any athletes to qualify for the State Meet next Friday and Saturday as a select few from both the Camp Verde Cowboys and Mingus Union Marauders took to the track & field Wednesday afternoon at Alhambra High School.
So far this season, the Mingus Marauders have automatically qualified four athletes, Megan Goettl (800 meter and 1600 meter), Hannah Devore (300 meter hurdles), Trevor Galloway (Discus), and Chance Gribauskas (Pole Vault). On the Camp Verde side, Allee Drake (Shot Put and Discus), Alyssa Watkins (Shot Put and Discus), and Nate Schultz (High Jump).
The Alhambra Last Chance Meet, held Wednesday afternoon, April 27, was open to any athletes that had provisionally qualified in their events, giving them one final opportunity to automatically qualify for the Division III & IV State Meets that will be held at Mesa Community College on May 6 and 7. No one from either Mingus or Camp Verde improved their times enough to automatically qualify, but some came pretty close.
MINGUS UNION
Hannah Devore, who is already automatically qualified in the 300 meter hurdles, improved her time in the 100 meter dash by .14 of a second, missing the automatic qualifying time by .35 of a second.
Freshman Meg Babcock was another Marauder to set a personal best in the meet with a time of 2:32.12 in the 800 meter dash, which beats the provisional qualifying time in the event, but does not assure her a spot in the State Meet. Babcock took third in the 800 meter race and won the 1600 meter race with a time of 5:58 .35, two seconds slower than her fastest time in the event.
On the boys side for the Marauders it was a pair of relay teams who set their personal best times to close out the regular season. The 4 x 100 meter relay team of Juan Ruiz, Sean Williams, Jonathan Jung, and Fabian Navarro, set their new best by .46 seconds in the event which left them just under a second short of an automatic qualifying time.
The 4 x 400 relay team of Ruiz, Navarro, Jordan Prouty and Ryan Alexander beat their personal best 3.69 second Wednesday afternoon, with a clocking of 3:39.93. The time was good enough for a provisional qualifying time, but like Babcock does not assure them a place in the Division III State Meet.
CAMP VERDE
Many Camp Verde athletes set new personal bests at the Last Chance Meet but like Mingus fell just short of automatic qualifying times.
Freshman hurdler Christopher Holdgrafer came the closest out of the Camp Verde crew, with the automatic qualifying time set at 17.01 in the 110 meter hurdles, Holdgrafer came up just short and just short means .01 seconds. He turned in a time of 17.02 at the last chance meet, good enough for a seventh place finish in the event and a provisional qualifying time.
Sophomore Nate Schultz turned in a fifth place finish and a season best time in the 300 meter hurdles with a clocking of 44.93 seconds, just over a second short of the automatic qualifying time for the State Meet.
On the girls side for the Cowboys, Alana Neary and Bryanna Truett both turned in season bests in the Triple Jump. Both improved their jumps but over a half foot, and achieved provisional qualifying distances with jumps of 29 feet, 3 inches and 27 feet, 11.75 inches.
The other two season bests set at the final meet of the season came from two relay teams in the 4 x 400 meter relay and the 4 x 100 meter relay. The squad of Rie Hibi, Corina Crittenden, Alana Neary and Edith Paniagua turned in a time of 4:50.18 in the 4 x 400 meter relay.
In the 4 x 100 meter relay, the same members set a new record of 56.78 which stands as the best time for the entire Camp Verde team this year. That time falls just two seconds short of the automatic qualifying time.
Members from both teams will compete at the Division III and Division IV State Meet held at Mesa Community College on May 6 and 7.
--Follow Sports Reporter Greg Macafee on Twitter @greg_macafee or contact him at 928-300-1376, gmacafee@verdenews.com