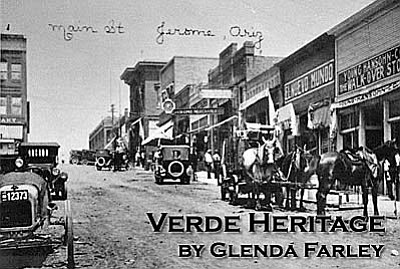 Originally Published: August 19, 2016 9:15 a.m.
"The narrow gauge railroad is expected to reach Jerome some time in September. The Jerome load leaves Clear Springs 3 miles south of Banghart's ranch and from there to Jerome it is called 29 miles. At present the bucket line is working from the summit to the smelter."
"The converter plant is nearing completion and will be the only one of the kind in the country. It is known as the dirt process. Ladles holding 5 tons are moved by motor cranes to and from the blast furnace and will be dumped by another motor. It is contemplated to have 6 converters with a 300 horse power blowing engine. The frame work on which the 5-ton ladles run are of heavy iron uprights bolted together with heavy ties. It is said some 300 tons of ore per day are handled. A model new hoist is in operation with an engine of 80 horse power that raises from a shaft 500 feet deep."
"A 250 compound horse power engine is used for the smelters, while 1 of 150 horse power drives the electric plant."
"The finest and the most convenient bunk house in the Territory is at Jerome. It is 2 stories high and contains 75 rooms, library, barber shop and bath room. Jerome at one time had the worst accommodations for her men but now she has the best. The bunk house is looked after by a matron. A reasonable rate is charged each roomer."
"The eating house is a 2 story building 37 x 85 feet and is a few steps from the bunk house. The eating house is well supplied by all the market effort and is looked after by Miss Nellie Cashman."
"Jerome is becoming a model camp through the able management of Messrs. H. J. Allen and J. L. Gireauz [Giroux]. Ten new cottages have been built lately and 20 more are under way. The town is well supplied with water and has one of the best peace officers in the Territory."
"The health of the camp and at times difficult surgical operations are looked after by Dr. W. C. Woods a very able man. The services of Dr. Wood are called for many miles away from Jerome."
"The town is recovering from the late fire. Thirty days more will see it in a better light than ever."
"Miners are paid $3.50 per day. The ore burners get $2.25 per day. There are at least 300 piles of ore burning all the time and each pile will average 20 tons. One layer of wood is sufficient to start the sulphur in the ore and then it burns all out. It generally takes 30 days."
"The reverberatory furnace is running in silver matt."
"W. W. Hill, the master mechanic, is still with the company. There are many improvements contemplated that will be carried out before another year."
(Arizona Weekly Citizen; Tucson; August 18, 1894; page 3.)
MISS ELLEN "NELLIE" CASHMAN
1890, Prescott: "Miss Nellie Cashman, one of the best known women on the Pacific coast, arrived in Prescott yesterday, with the intention of engaging in business here. Miss Cashman has the reputation in every mining camp on the Pacific coast of being a forerunner of a boom. She located in Virginia City, Pioche, Bodie, Tombstone and other camps just previous to their respective eras of prosperity, but never stays long in a dead or dying town." (Arizona Weekly Journal-Miner; Prescott; January 22, 1890.)
"Miss Nellie Cashman has opened a confectionery store in Prescott." (Arizona Weekly Citizen; February 1, 1890.)
1894, Jerome: Miss Nellie Cashman moved to Jerome, where she managed the United Verde Copper Company eating house. "Nellie Cashman, one of the best known women on the Pacific coast, who has kept a boarding house in nearly every camp between the British possessions and Mexico, returned to Prescott on last evening's train. --- Courier." (Tombstone Epitaph, July 1, 1894.)
"M. J. and William Cunningham and their two sisters, nephews and nieces of Miss Nellie Cashman, arrived in Prescott this morning and will go to Jerome to locate." (Arizona Weekly Journal-Miner; July 25, 1894.) After Tom Cunningham died on February 20, 1881, and Nellie's sister, Frances Cashman Cunningham died on July 3, 1884, Nellie assumed the responsibility of caring for their 5 children.
A large group of people went to Jerome in connection with a political rally. "Miss Nellie Cashman, one of the best known and most popular women on the Pacific coast, appeared and contributed cheerfulness to the otherwise cordial welcome and extended pleasant greetings to all and particularly so to her many old acquaintances in the party. Though arriving, as we did, at the busiest hour of the day for her, it did not take her long to prepare one of the best meals I ever sat down to in the Territory. The ease and grace with which Miss Cunningham cared for our party while at the same time caring for a couple hundred men in the large dining room was favorably commented on. It was all done so quietly and pleasantly without the least friction. She was here, there and everywhere giving attention to all her guests, never for a moment overlooking or neglecting any of those whom she had long since learned to love and care for --- the honest sturdy miner." (Arizona Weekly Journal-Miner; October 24, 1894; The Verde Independent; October 22, 23, 2014.) "Miss Cashman is a vote getter and did good work for Oakes Murphy at Jerome when he was a successful aspirant for delegate to Congress in 1894." (The Coconino Sun; November 7, 1903.)
"Miss Nellie Cashman came in Saturday from Jerome, having given up the boarding house there." (Arizona Weekly Journal-Miner; Prescott; January 2, 1895.)
1895, Globe; "Miss Nellie Cashman, who for 16 years has managed mining camp hotels in Arizona, is now a resident of Globe." (Arizona Republican; October 24, 1895.)