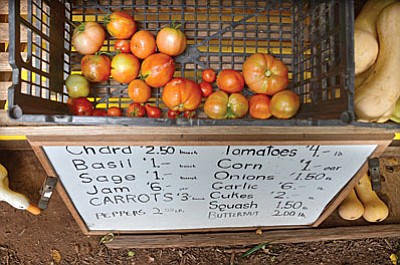 Originally Published: August 25, 2016 3:50 p.m.
VERDE VALLEY -- It's a rotten season for tomatoes.
The tomatoes aren't rotten. The problem seems to be the opposite, they won't ripen.
Green tomatoes hang on vines in the Verde Valley as farmers and amateur gardeners stare at the fruit waiting for them to turn red.
In the meantime, tomato worshipers are missing out on their fix - the yearly experience of bursting the freshly grown fruit in their mouths and realizing store bought-tomatoes barely have any flavor.
But there still is hope this summer.
Rogelio Noguez, who has a small farm and stand on Charolais Drive near the new Camp Verde Community Library, said this is the worse year for tomatoes in the 17 years.
He is hoping that his remaining crop will still turn red - and the end of the season will produce a bumper crop.
Jamie Moffett, who has the Fresh Start Farmstand on 89A in Bridgeport, agrees. Moffett said he expected to be selling tomatoes at the end of June and July, but lost half his plants to the curly top virus and he has been battling the weather.
"Tomatoes need certain kind of conditions in order for them to set fruit. If it's too hot, they don't set fruit," he said. "I've got green tomatoes out there, but I ought to have a lot of red tomatoes. But I think we'll have a better end of a season this year than I had last year."
Moffett does have some ripening tomatoes to sell now, but he is hoping that the green tomatoes on his vines will turn red at some point. But there are no guarantees what the end of the season will bring, he said.
"It's never taken so long for them to ripen. It's crazy," explained Dave Stutzman, who owns the popular Stutzman Gardens pick-your-own tomato stand on Salt Mine Road in Camp Verde. "Things are not right this year."
Customers from far away as Phoenix flock to his farm stand for the rare opportunity to walk a tomato field and hand-pick tomatoes to bring home and make salsa or pasta sauce.
Stutzman has been open this summer, but had to close last weekend when he sold out of red tomatoes last Friday and Saturday. "We have more customers than tomatoes."
Stutzman said he was wondering if it was just him, but now has been getting reports from other farmers around the state.
The problems has been the cool spring at the beginning of the year, high winds affecting the blossoms and heat spells later in the year, Stutzman explained, adding that he also had a problem getting a delivery of plants that he ordered before the season.
"I have a lot of green tomatoes that don't want to ripen," he said. They are taking their time.
Stutzman is also hoping that all his tomatoes will turn red by the end of the season, which can run until the frost in late September and early October.
"It's mind boggling," he cautioned. There was one year when the tomatoes just sat on the vines and didn't ripen, Stutzman added.
Stutzman's Gardens planned to reopen on Thursday and be open this weekend depending on the monsoons. He is optimistic that the end of the season will produce a wonderful crop of tomatoes once they turn red.
The ironic aspect is that the tomatoes need to turn red in order to turn other tomatoes red, he said. It's a chain effect, he added.
Jeff Schalau, the University of Arizona coop extension agent in Prescott, said tomatoes grow the best when temperatures are between 60 and 90 degrees.
The average and mean temperature were much hotter this summer than last year, Schalau said. "It's just too hot. Now it's getting pretty cool at night and that may have an impact, he said. But there is a warm-up forecasted, so there may be quite a bit of growing season left for the Verde Valley, he added
Schaulau attributes the tomato problem to the weather, especially the hot temperatures in June. He said the Prescott growers did not report as much of a problem with tomatoes, but thought this made sense because temperatures are lower in Prescott than the Verde Valley.
"We had a cooler spring and then it got hot really fast, so I don't think the plants got started very strong and they were slow just growing," Moffett said. "And then when it got hot, it was too hot for them to set fruit, so that's my theory as to what's going on. Every year always is different."
"I expect to have a lot of tomatoes coming on, it's just that they have been really slow in coming," Moffett said.
Normally Moffett would have quite a few tomatoes for sale in July, but he had none this year.
Some people can take green tomatoes and let them ripen on the counter, but it's better to let them ripen on the vine, he said.
"We're hoping to a good end of the season, but there's no guarantees to any of this stuff," said the farmer. "We're going to see what happens."