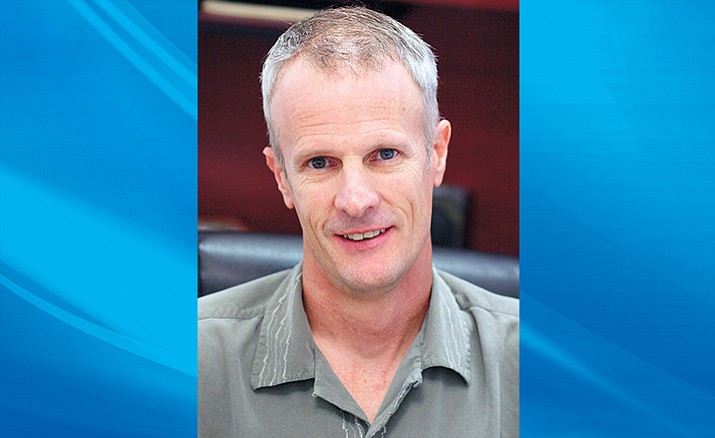 Originally Published: December 4, 2016 7:54 a.m.
CAMP VERDE – The Model City Tax Code used by 66 of the state's 91 municipalities gives aide to farmers and ranchers in the cost of their operations for animals raised for slaughter.
Ask Mike Showers about it, and the Town of Camp Verde's Finance Director says there should be at least one more community helping its agriculturalists.
Wednesday, Showers will ask the Camp Verde Town Council to amend the town's Transaction License Privilege and Use Tax – also known as the sales tax.
According to Showers, local farmers should not be required to pay the town's 3.65-percent sales tax in the cost of their operations of raising and selling livestock. The proposed ordinance, 2016-A419, would also provide further incentive to keep their purchases local as opposed to looking outside of the city, according to council's Dec. 7 agenda.
The proposed amendment does not exempt the normal retail sales to individuals for personal use, nor would it exempt sales to ranches or farms for livestock purchased or raised for production or use, such as milch cows, breeding bulls, laying hens and riding or work horses, the agenda also states.
"In discussions I've had locally, I thought I'd float this out to council to see what they thought," Showers says. "It's not something out of the norm. I thought the key one was Chino Valley – they have the deduction. They have a much larger ranching community than we do. It's a bigger impact on them than us. Truth us that this won't have a huge impact on the town. It's a small portion of our sales tax."
If approved by council, the Town's Model City Tax Code would be amended under section 8-465 (r) to exempt "sales of the following to persons engaging or continuing in the business of farming, ranching, or feeding livestock, poultry or ratites:
• Seed, fertilizer, fungicides, seed treating chemicals, and other similar chemicals;
• Feed for livestock, poultry or ratites, including salt, vitamins, and other additives to such feed; and
• Livestock, poultry or ratites purchased or raised for slaughter, but not including livestock purchased or raised for production or use, such as milch cows, breeding bulls, laying hens, riding or work horses.
The exemption would be backdated to July 1, 2016.
Changing assurances
Camp Verde Town Council will also hear a request from Tierra Verde Builders owner John Bassous to change the form of assurances for developing a 12-lot residential subdivision known as Castle Heights.
Bassous stated in a letter to Camp Verde Community Development Director Carmen Howard that he would like to ask council to "allow me to change the assurance wording on the final plat to reflect the manner best suited for me for assurance, that being a surety or completion bond from an insurance company licensed in Arizona with a rating of good or higher from a rating agency and a copy of the rating."
Bassous also stated that he would seek "no other changes to the final plat."
The proposed development is on approximately 20.92 acres located at the northwest corner of N. Arena Del Loma Road and Montezuma Castle Highway.
In November, council approved the final plat for the subdivision. As part of the agreement, Camp Verde Town Attorney Bill Sims created an Assurance Agreement for Construction of Subdivision Improvements document which said the Town would require the letter from Chase Bank.
The project's developer, Bassous stated in the letter to Howard that the Town allows "multiple ways to provide assurances," including bonding, loan commitment from a lender, a trust or escrow account as well as an irrevocable letter of credit.
"The reason why the letter of credit wording appeared on the final plat was because that was the wording which was forwarded by the previous Community Development Director to my Engineer at Granite Basin Engineering, and they assumed that was what needed to appear on the Final Plat," Bassous stated to Howard.
"To my knowledge, I was not asked or directed to choose what method I would I wanted," Bassous stated.
Reading program on the move?
When Bret Fox talks about the Camp Verde Adult Reading Program's possible move to the Camp Verde Community Library, he looks at the "more visible profile, new and clean space, and convenient parking" that the new 17,000 square-foot two-story building offers.
The program's GED instructor and computer instructor has already begun packing things up for transport to its new space.
And the move isn't even official. Yet.
Wednesday, the Camp Verde Town Council could approve the Town's Facilities Use Agreement with the Camp Verde Adult Reading Program. Moving the CVARP to the ground floor of the new building is also good for the new library, as it creates a relationship between folks working toward their GED and ESL needs with the town's utmost post-educational center for the learned.
Also Wednesday …
Council could also approve Resolution 2016-969, which would prescribe standards of financial disclosure for local elected officials. This resolution would supersede Resolution 87-02.
The Dec. 7 council regular session will be held at 6:30 p.m. in council chambers, located at 473 S. Main St., suite 106.
A copy of the agenda is available at www.campverde.az.gov/wp-content/uploads/2015/12/12-07-2016-Regular-Session-Agenda.pdf.
-- Follow Bill Helm on Twitter @BillHelm42 and on Facebook at @CampVerdeBugle