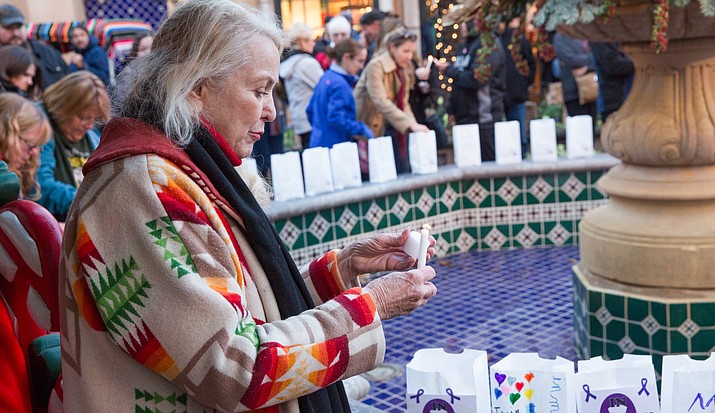 ---
---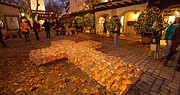 SEDONA -- Tlaquepaque Arts and Crafts Village's time-honored Festival of Lights event, now in its 44th year, is even more spectacular than ever. Join in the family fun Saturday, Dec. 10, 3-8 p.m.
Admission is free and, for your convenience, consider parking in the two Uptown parking lots (Municipal Parking Lot at 260 Schnebly Road and the City Parking Lot: 250 Brewer Road). Take the free trolley to and from Tlaquepaque from 3 to 8 pm. Everyone is warmly invited to play their part in the lighting of 6,000 luminarias at the stroke of 5 p.m. and watch Tlaquepaque transform into a glowing golden village with every walkway, patio, and fountain enshrined in light.
Plan to spend the day at Tlaquepaque and enjoy non-stop, fabulous live musical entertainment that includes favorite holiday fare, high-energy Latin beats with a seasonal theme, fusion flute renditions, enchanting violin, gypsy jazz and swing, an over-the-top Vaudevillian musical and dance act -- and the topper and crowd favorite, the thunderous Phoenix-based tabernacle choir that gives its all with energy and passion! And, of course, every fine gallery and specialty boutique will also be welcoming you for special holiday shopping.
This year Tlaquepaque is especially magnificent as its gorgeous giant sycamore trees will be wrapped in tens of thousands of holiday lights including those in Tlaquepaque North. New this year is the Tinsel Town extravaganza (December 1 to January 1).
Years previously, visitors traveled far and wide to experience Red Rock Fantasy at the Los Abrigados Resort. That popular must-do tradition has been reimagined at Tlaquepaque as Tinsel Town. Enjoy walking through Tinsel Town (free from 6 until 9 nightly), viewing community Holiday installations, and voting for your favorites throughout the property. Sedona Parks and Recreations and Sedona Chamber of Commerce have partnered with Tlaquepaque to make this festive event bigger and better than ever.
Along with all the holiday cheer, the season is a time of remembrance and hope. For those who have lost a loved one to cancer or have someone dear to them struggling with the disease, there is an opportunity to sponsor and offer a luminaria in their name.
"It is very moving to see people write a personal message on their luminaria," says Wendy Lippman, general manager and resident partner of Tlaquepaque. "The luminarias are then placed around the fountain at Patio del Norte in a beautiful tribute." Luminarias can be purchased for $10.00 on site or in by calling (928) 282-4838. Proceeds support the American Cancer Society.
Entertainment Schedule
2:30 - 4:30 pm: Sherry Finzer Duo. Award-winning flutist Sherry Finzer can play anything spectacularly on her instrument. Known for her bold musical style, she brings together a new fusion sound blending New Age, Latin, and classical music in the Tlaquepaque Chapel.
3-5 pm: Michael Kollwitz on Chapman Stick. If you have never heard a Chapman Stick, it's one of the most expressive musical instruments ever created. Kollwitz is a Chapman Stick virtuoso with 39 years experience. Don't miss its amazing sounds! Patio de las Rosas.
3-5:30 pm: Gather the kids for a visit with Santa while enjoying all the traditional Christmas carols and holiday favorites sung by Sedona's dynamic duo, Tom and Shondra. Purchase personalized luminaria to honor cancer survivors and family and friends lost to cancer. Patio del Norte.
5 pm: Lighting of 6,000 luminarias throughout the entire arts village. Listen for the tolling of the bells to signal the lighting!
3-5:30 pm: Darius Lux Duo: Darius Lux is an exceptional guitarist and inspirational lyricist performing soulful, rock-edged pop tunes. Lux's style could be compared to Jason Mraz, Adam Levine (Maroon 5), or Lenny Kravitz. Lyrically, he comes from a place of free thought and encouragement of the human spirit. First time performing in Tlaquepaque at Tlaquepaque North.
3-5:30 pm: Enjoy the get-down sounds of Andres Y Los Guapos (formerly Ritmo Latino), featuring the vocals of Andres Martinez, acoustic guitar, saxophone and Latin percussion. These guys rock with lots of energy and passion. Get ready to bust a move or two! Patio de las Campanas.
5-7 pm: From classical to hip hop and lots in between, this gifted, award-winning violinist and composer, Jonathan Levingston, back for a third year, is sure to enchant and delight everyone in the Tlaquepaque Chapel.
6-8 pm: if you want to be moved to your core don't miss the straight-from-the-heart performance by Phoenix-based River of Life Tabernacle Choir, directed by Ron Tolson. Inspiring and uplifting, enjoy their huge sound as they sing seasonal hymns and holiday favorites in Plaza de la Fuente!
6-8 pm: Check out the Swingtips… hailed as one of the hottest nostalgia pop/swing acts around. Their highly entertaining, Vaudeville-era-inspired interactive shows gets everyone on their feet and dancing 'til they drop! Tlaquepaque North.
6-8 pm: Gypsy jazz, infectious swing and improvisation combine to help ring in the season, performed by the unforgettable Zazu in Patio de las Campanas.
6-8 pm: Sistas Too debuts at Tlaquepaque and if you love blues these two totally bring it. Recently winning the Arizona Blues Showdown in 2016, they present the blues "in a fresh, crisp, professional yet homegrown manner, especially to younger generations."
During the Festival of Lights, Tlaquepaque's world-class art galleries and specialty boutique shops will be open until 8 pm. All decked out and brimming with one-of-a-kind gifts for that special someone, be sure to see what treasures await. And if you get hungry know that any of the exceptional restaurants in Tlaquepaque offer a wide range of cuisines from fine continental dining at Rene Restaurant to a casual grill and brewery menu at Oak Creek Brewery, and scrumptious Mexican dishes at El Rincon, excellent dinner fare at the Secret Garden, and the new Pump House Eatery and Urban Market in Tlaqupaque North. Reservations are recommended.
Tlaquepaque is located at 336 State Route 179 in Sedona. It is open daily at 10 am. For more information call (928) 282-4838, visit: www.tlaq.com.