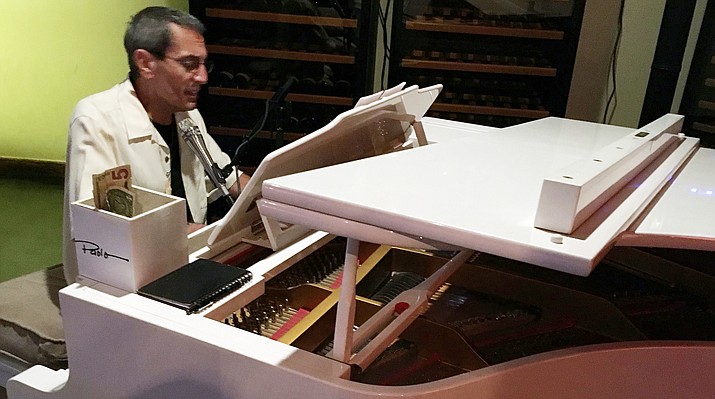 ---
---
Sound Bites Grill located in uptown Sedona at the Hyatt shops provides live entertainment seven nights a week. Whether the entertainment is in the show room on their stage or someone is playing their new Baby Grand piano in the main dining room, you will enjoy some form of live entertainment.
This coming week the following local and Phoenix-based musicians will be performing. On Wednesday Night December 7th local and international artist Eric Miller will be performing solo. He is best known for his Latin Jazz guitar playing. He has written a tremendous amount of songs and has numerous albums. After traveling throughout France, Italy, England, Ireland,  Eric Miller arrived in Spain and fell in love with the art of flamenco. His passion for flamenco guitar stayed with him when Eric returned to the United States, where he continued to study and perform. Eventually, he was drawn to the music of Brazil and immersed himself in the Bossa nova and samba, adding Brazilian Jazz guitar to his ever-growing World Music repertoire. You will enjoy this from 6-9pm along with numerous originals.
Friday Night Dec 9th Legendary guitarists Anthony Mazzella who's music is featured in the show are Jimi Hendrix, Eric Clapton, Carlos Santana, Jimi Page (Led Zeppelin), The Edge (U2), Pete Townsend (The Who), David Gilmour (Pink Floyd), George Harrison (The Beatles), Dave Murray (Iron Maiden), Keith Richard (The Rolling Stones), Randy Rhoads (Ozzy Osbourne), Eddie Van Halen, Stevie Ray Vaughan and more.Legends Of Guitar reaches a very broad audience given the diversity of artists it pays tribute to. People love guitar music and are fanatical about the bands they play in. This show features the technical skills of the greatest guitarists and the music from some of the biggest bands. 
BILLBOARD Magazine describes him as "the new generation of guitar hero" and GUITAR ONE magazine voted him "one of the top ten guitarists in the country". Anthony is an internationally acclaimed artist who continues his studies by exploring music from cultures all over the world and collaborating with musicians indigenous to those regions. Showtime is 7pm. You may purchase tickets by calling 928-2713. Doors open at 5:30 for dinner. The full menu is served in the show room.
Saturday Night Dec 10th, from Phoenix Arizona, blues guitarist Sir Harrison will be performing with his band. Dbass, Bam Bam and a mean sax player will be joining them. The band is tight funky blues that gets you on the dance floor. Harrison Begay was born and raised in Tucson, Arizona, is full blooded Navajo (Dine'). His passion for blues music and the guitar have been the driving force in his quest for artistry. He started playing music at the age of eight. He has a passion for the guitar and getting you on the dance floor.
Sunday Night Dec 11th Music by the Classics returns with Jeannie Carroll, Eric Williams, George Bein and Chuck Murko. The Jazz Quartet presents "An Evening of Romance". The band will play and Jeanie Carroll will sing mostly the slower, dance-able songs that many of us are familiar with from the 60's, 70's and 80's. Also included with be some great up-tempo and Latin tunes to get you moving. So, bring your dancing shoes or just come to listen to and enjoy the music. The venue is like a supper club so you enjoy a nice dinner, music and dancing in one spot. There is no cover for this evening.
Monday Dec 12th local musician Robin Miller will be performing on the baby grand and Tuesday Dec 13th Nicki Park from Phoenix will be performing on the piano. Both brighten up the dining room with great tunes to dine to.
Sound Bites Grill is located in next to Starbucks at the Hyatt Shops in uptown Sedona. You can see all their events at SoundBitesGrill.com or call for more info at 928-282-2713.