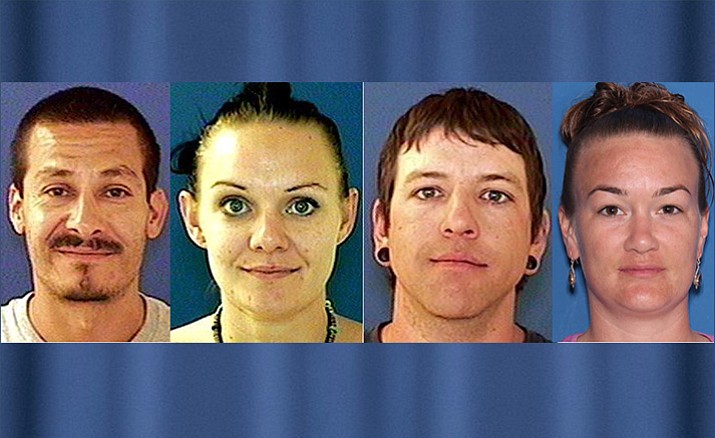 Originally Published: December 8, 2016 1:56 p.m.
JEROME – In January 2015, PANT detectives and multiple police departments began investigating a burglary of a studio in Jerome in which tens of thousands of dollars in jewelry was stolen, according to a news release.

Cottonwood, Clarkdale, and Jerome police departments assisted throughout the lengthy investigation, the release stated, which spanned several months.
Detective Sgt. Tod Moore of Cottonwood Police Department said the four suspects were identified in connection with the burglary, theft and trafficking in stolen property.
The case was presented to a Yavapai County Grand Jury in November. All four suspects, Ryan Hamman, Cassandra Weston, Joe Hernandez and Jessica Lash were indicted by the Grand Jury on multiple felony charges, stated the news release. Days later, said Sgt. Moore, felony arrest warrants were issued for all four suspects.
Detectives located Hamman, Weston, and Hernandez and took them into custody. However, authorities are seeking assistance from the public in locating Lash, according to the release. She is aware of the warrant for her arrest, said Sgt. Moore, and is actively eluding law enforcement.

Lash has ties to the Verde Valley area, specifically Sedona and Cottonwood, stated the release, and she also has ties to Prescott and Prescott Valley area.

Lash is a 30-year-old white female with brown hair and blue eyes. She is 5 foot 4 inches tall, and weighs approximately 135 pounds.
The release said that Lash also goes by the name "Jesse" and during prior law enforcement contacts, has provided officers with false names and dates of birth.
Anyone with information regarding the whereabouts of Lash is encouraged to contact Detective Scott with the Cottonwood Police Department at 928-340-2117 or Yavapai County Silent Witness. Callers who wish to remain anonymous and who want a cash reward must call Yavapai County Silent Witness at 1-800-932-3232.