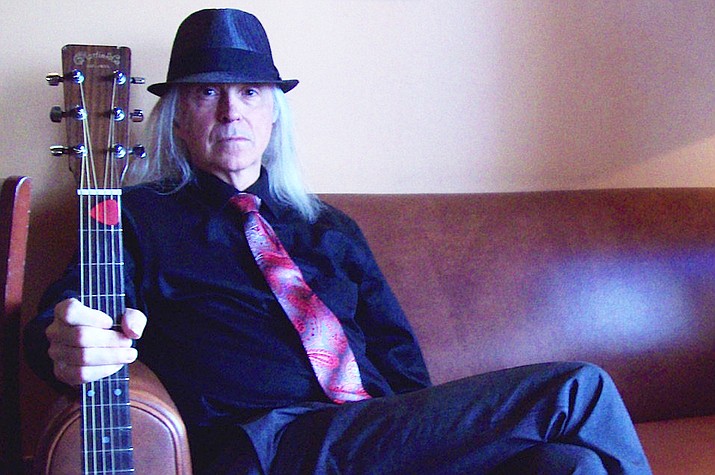 ---
---
It's hump day Sedona, and you know what that means; music at Vino Di Sedona by local favorite Rick Busbea, December 14, 7-10 p.m. Rick puts on a high energy show playing a lot of familiar tunes by the likes of Kenny Chesney, Jimmy Buffett and Jim Croce. If you are not at Vino Di Sedona on Wednesday nights, you are missing out! Please bring a toy to donate to Toys for Tots!
Spend Thursday night at Vino Di Sedona listening to amazing music by Tim Young! Before moving to Sedona, Tim had a 30-year music career in NYC where he performed hundreds of shows and released three CD's. He was raised in the heyday of AM Top 40 radio and the Folk music boom, his inspirations are everyone from Bob Dylan, Joan Baez and Arlo Guthrie to The Beatles, Sex Pistols, Ramones, Cars and Nirvana.
Instrumentally, Tim is a stand out rhythm guitarist, both acoustic and electric. He has composed music and songs for TV and several independent films. Tim's lyrics are inspired by personal relationships, politics, the bar scene, and the music business. Tim's set is December 15, 7-10 PM. Please bring a toy to donate to Toys For Tots!
International singer-songwriter Darius Lux performs music live at Vino Di Sedona on Friday December 16, 7-10 PM. Darius is an award-winning artist who specializes in classic, uplifting pop with soulful vocals.
Lux plays classic covers from Van Morrison to John Mayer, and his original songs connect with the heart through inspiring themes that range from empowerment to romance. His smooth voice and looped guitar stylings create an earthy blend of popular music, rock and reggae that you can relax or dance to.
Darius' life has been one of expansive adventures. Originally hailing from London, he's been creating music almost as soon as he could talk. His influences range from Sting, Otis Redding, U2 to OneRepublic, Jack Johnson and Jason Mraz.
Darius went to school in NYC, after which he worked for Sony/Warner Chappell writing songs for artists such as Daryl Hall and Jennifer Lopez. After living in New York, Darius travelled the world for a year, embarking on a life-changing pilgrimage that led to a move to Hawai'i, where he recorded his debut album, "Arise."
Next moving to Los Angeles, Darius put together a band, released several more albums, "Time is Now" and "We The Living," and music videos. All three of his albums feature songs that have been in film (The Butterfly Effect 3, Puncture Wounds) and TV (NBC, MTV, VH1, History & Discovery channels, Style Network and Oxygen Network).
Darius felt that his music resonated so much with Sedona that he packed up his house in LA and moved here, and now he is diving deep into the local nightlife.
Come enjoy this free performance at Sedona's most popular wine bar, Vino Di Sedona. Darius' soaring vocals and uplifting music is sure to entertain. For more information visit dariuslux.com. Please bring a toy to donate for Toys for Tots!
Ralf Illenberger will be the featured musician at Saturday afternoon's Wine Tasting at Vino Di Sedona on December 17, 3:30-6:00 p.m.. Composer, producer, guitarist Ralf Illenberger's experience spans a varied and successful thirty-year career that includes hits in Europe and the US, sales of over 400,000 CDs, and performances in more than 50 countries. He has produced 16 albums of his own compositions that resulted in three US top ten singles on the Narada label, and five hit albums in Europe. He has received a US Grammy nomination as well as the German Record Awards nomination (German 'Grammy' equivalent).
Illenberger has received many other prestigious awards for his productions and extraordinary musicianship throughout his long career. A well-known, and highly acclaimed, guitarist, he has played on compositions of many famous musicians who have reciprocated on his works. Illenberger is known for his extremely dynamic instrumental music that is both accessible and experimental.
His orchestral acoustic guitar-stylings create a unique woven tapestry that places him in the category of guitarists whose sound and technical mastery form a recognizable individual genre. His accessible instrumental guitar music borrows from classical, jazz, folk, blues, world, and ancient traditions. A talented musician and composer, Illenberger writes, produces, arranges and records his own material and well as other artists.
Following Illenberger is Sedona's only all original rock band Green Light! The Green Light band just keeps getting hotter and hotter and Vino Di Sedona is one great place to catch them live, up close and personal on December 17, 7-10 PM. "We just love the wine bar," said Chicky Brooklyn, co-founder of the band with his NYC cohort Tommy Acosta. "We got a long-term relationship with the venue and the vibes are truly friendly." "Yea," ads Tommy. "It's a focus point where musicians, locals and visitor's get to hang out and party.
Three and four-part harmonies, extended virtuoso-musical jams, rock-solid tunes with hooks that get you from the first chorus on, form the heart of the Green Light Show. Shed the years and dance the night away at Vino Di Sedona with Green Light. A green light means "go" and go is the engine that runs this band. Go see them play live and you too will see the light.
Rick Busbea is back at Vino Di Sedona on Sunday-Funday, December 18, 6-9 PM with more of his fun covers and a few original songs!
Music Monday features Prescott Idol winner D.L. Harrison! D.L. is an Arizona singer-songwriter who delivers a high-energy rock and blues show, and was recently named Prescott Idol! Music on Monday on December 19 starts at 6:30 PM.
Sedona's best Open Mic night, hosted by Dan Rice is every Tuesday, 6-10 PM, at Vino Di Sedona. Each musician is allotted an amount of time, or number of songs, and every week brings a variety of new talent along with regulars like KB Bren, Randy J, Zack Mack, Vickie Moyer and Dave Rice who frequently play at Open Mic.
Vino Di Sedona Fine Wine and Craft Beer, is a Wine and Beer Bar and Wine Shop with nightly entertainment. Located at 2575 W SR 89A in West Sedona. For more information or to see the full calendar of events, visit www.VinoDiSedona.com. 928-554-4682