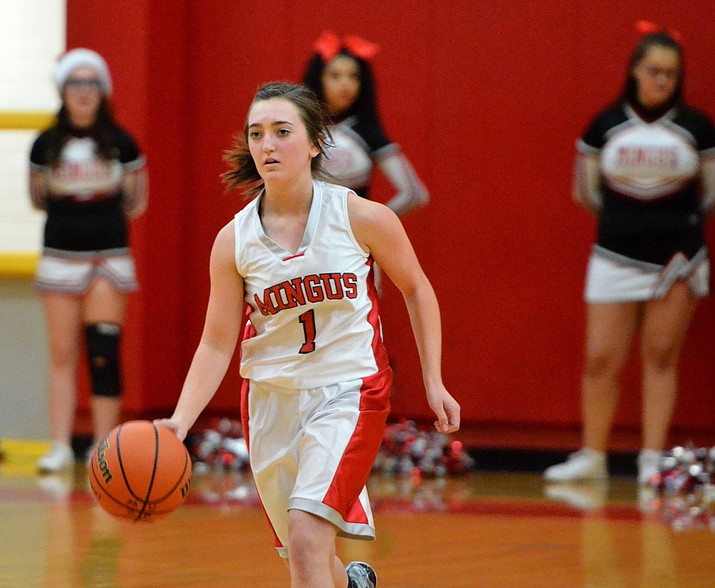 Photo by Vyto Starinskas.
Originally Published: December 15, 2016 9:36 a.m.
PHOENIX -- In basketball, it's often all about making adjustments.
That's exactly what the Mingus Union girls did Tuesday for a reversal of fortunes and a 42-32 win over host Washington.
Down 22-19 at the half, Mingus Coach Frank Nevarez urged his girls to increase the defensive pressure and work the game plan on offense.
Pressure defense was the key for Mingus as the Marauders limited Washington to just 9 points in the second half, while senior Destiny Razo went on an offensive tear with 15 second-half points and a team-leading 20 to pace the Mingus attack.
"She had an incredible second half," Nevarez said of Razo.
Mingus is now 5-2 on the season.
Sophomore Darien Loring added 11 points for Mingus while junior guard Trina Honwytewa had 10 points.
Junior Nikki Zielinski had her typical strong all-around game with 10 rebounds and three assists while senior Emily Bauers claimed 8 boards and junior center Stephany Esqueva had 9 rebounds and 5 blocked shots.
Esqueva, said Nevarez, was a major defensive presence for Mingus near the end of the game. "Her five blocked shots were huge for us," he said.
Also encouraging for Nevarez is the fact that the Marauders are beginning to show some bench strength. Summer Scott and Kaycee Williams are getting some double duty playing junior varsity and adding bench support for the varsity. Both saw playing time Tuesday for the varsity and Nevarez was especially pleased with the defensive effort of both young players. Scott was a strong presence underneath with a trio of rebounds.
Mingus will be looking for its sixth win of the season Friday on the road against Bradshaw Mountain.
More like this story