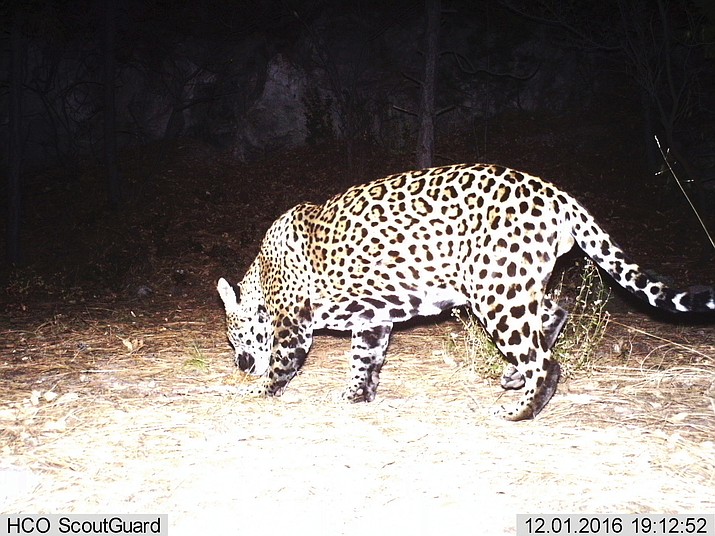 Originally Published: December 19, 2016 2 p.m.
PHOENIX — Scientists at the Arizona Game and Fish Department completed an independent analyses of trail cam photos of a jaguar in the Huachuca Mountains and confirmed that the animal has not been seen previously in Arizona.  
AZGFD and the US. U.S. Fish and Wildlife Service received the photographs earlier this month.
"Five scientists from the department independently examined the photos from the new sighting with those from previous jaguars in Arizona to compare spot patterns and concluded that this animal has not been sighted in previously in the state," said Jim deVos, assistant director for Wildlife Management at AZGFD in a news release.  
"While recognizing the importance of finding a new jaguar in Arizona, it is also important to point out that this animal, like all other jaguars observed in Arizona in at least 50 years, is a solitary male and that the closest breeding population of this species is about 130 miles south of the international border," added deVos.
The other most recent sighting of a jaguar in Arizona, stated the release, was in the Santa Rita Mountains in southern Arizona; however, that animal has not been documented in the state since September 2015. Prior to September 2015, this jaguar was photographed hundreds of times over a three-year period, said AZGFD.
"Jaguars are a unique component of this state's wildlife diversity and it is exciting to document a new visitor. However, in the absence of female jaguars and with the irregularity with which we document any jaguar presence in Arizona, this sighting in early December is important, but not an indicator of an establishing population in the state," said deVos.
More like this story