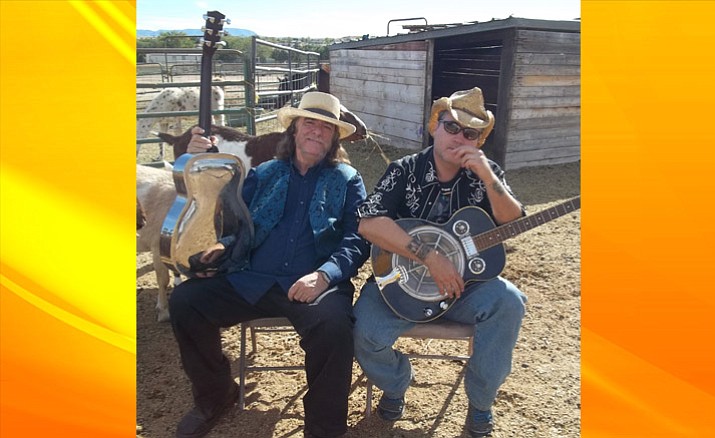 ---
---
Northern Arizona Roots music performers The Electric Swamp Poets Duo, (Christian Michael Berry and Devil Don Whitcher) are headed to Memphis, Tennessee, the first week of February 2017 to perform and compete at the International Blues Challenge.
The International Blues Challenge. is put on by the Blues Foundation and sponsored here in Northern Arizona by the Northern Arizona Blues Alliance. Many of the "Blues Greats" got their start and the beginnings of their International recognition and careers here. This event is considered the "Mecca" for Blues and Roots Music Performers.
The Electric Swamp Poets Duo is nominated in two different categories, making them a "double threat". Their new album "Delta Flood" on the local Retrofit Records Label is nominated for Best New Independent Blues Album Of The Year and the duo itself is nominated as Best New Blues Duo Act.
As the name implies The IBC is an international event. People fly in from all over the world to perform and compete at the week long series of showcases. Along with International and Famous Blues performers the event is also attended by many Record Label Executives, Radio Station Programmers, Television & Movie Soundtrack Supervisors, American and Euoropean Tour & Festival Promoters and the general "Movers and Shakers" of the Blues and Roots Music Industry.
"Ironic", says Berry, "considering that Blues is just one facet of what we do. It's undeniable that there is a strong blues influence in our music but there are also elements of Gospel, Southern Rock, Country, Rockabilly, Americana and just about every sub genre of American Roots Music out there. Probably the biggest influence or 'common thread' of them all is the pull of the Mississippi River Delta and its various regions."
So much so that the group is most often referred to as progenitors of the "Swamp Music" genre of Blues and Americana, (Hence their name).
There are 15 songs on the duo's new album and its safe to say that there are also 15 different types of American Roots Influenced music there. Its also safe to say that the river's influence is very strong throughout the album and every song has at least one foot firmly planted in its muddy brown waters.
"According to Berry: "We didn't start out to make a "Blues" or "Swamp" album. We simply wrote songs and told stories of the things that have had the most impact on our lives. Every song is based on a true story of something that happened to us at one point or another. When we put all of the songs together they sort of fell into this progression of sorts that just pulls you through this wonderful collection of our memories and experiences. I always half jokingly say its like drifting lazily along the Mississippi, on a warm summer day, in a pirogue with your fingers and toes trailing in the water. Watch out for those snapping turtles! LOL!"
The Electric Swamp Poets Duo will be hosting a couple of fund raising events in Northern Arizona to help raise money to offset their travel expenses etc to Memphis.
The first event is scheduled for Jan. 14, 8 to 11 p.m., at The Main Stage in Cottonwood. That event will feature many "surprise guests including a lot of local blues legends and Hall of Famers," said Berry. "There will also be raffle and silent auction prizes and various "merchandise" items for sale. Says Berry: "It sure would be nice to see all of our Northern Arizona Friends and Fans there to support us and to help us celebrate this 'Once in a lifetime occasion'. And to send us off on our journey to represent Arizona and Arizona Blues Music in style"
Christian Michael Berry is a noted Record Producer, Session Player, Production Coordinator for both music and film, and Album Cover Artist. He has lent his producing, production coordinating and session playing talents to such artists as Billy Preston, Stone Temple Pilots, Golden Earring, and The Hellecasters among others. He recently provided the cover art for Delbert McClinton's Blind, Crippled & Crazy album. His film credits include 3 seasons on the Television Cult Classic Tales From The Darkside, Nightmare on Elm Street 3, and he produced the popular L.A. TV series West Side Hip Hop and the documentary series The Roots of Music. He relocated to this area from California in 1995 and has been centered out of Northern Arizona ever since.
Don Whitcher's music takes you on an exciting train-ride to places you can only dream of. A voice like cool clear water; guitar playing that smokes and drives a coal-burning rhythm and songwriting that could make an outlaw cry. Don is adept at many facets of Americana music, whether he is evoking the haunting echoes of a Mississippi night on slide or the biting edge of a Texas thunderstorm on steel guitar. He paints music like the plaintive cries of old ghosts sweeping down from North Dakota into a Southwestern monsoon.
Don's music is not easily defined, and he prefers it that way. He is a singer-songwriter who loves blues, old country, bluegrass, swing, folk and jazz. Through his love of music, he has a forged a unique sound and playing style all his own. Don cultivates unique rhythm textures with the deep lyrics of a well-traveled drifter. This is true American music.
Whitcher was signed to 95 North Records, and in 2004 charted in the Top 10 of the Americana and Roots country charts with his band the Slant 6 Cowboys. He's been compared to Greg Brown, Steve Earle, and Johnny Cash all rolled into one.