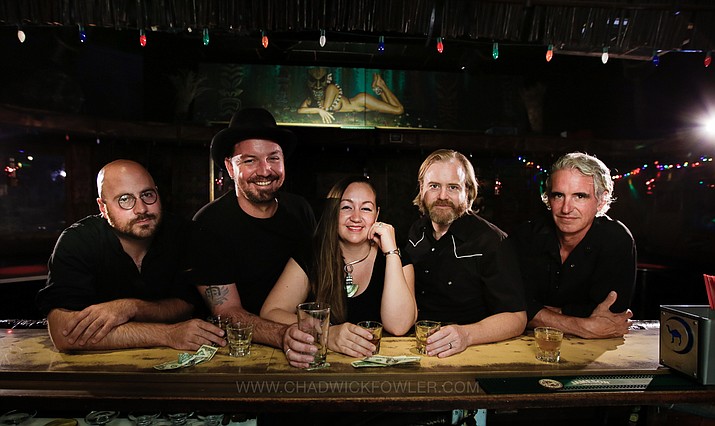 ---
---
COTTONWOOD -- Main Stage will ring in the New Year with two big celebrations featuring some of the area's favorite acts.
Friday, December 30, Main Stage kicks off the New Year's celebrations with the "Sugar Thieves Holiday party." Arizona favorites, the Phoenix based blues band The Sugar Thieves return to Main Stage.

The Sugar Thieves were born in 2006, in a smoky dive bar in Tempe Arizona. They began as a duo with Mikel Lander and Meridith Moore on guitar and vocals. After adding upright bass (Jeff Naylor), organ & sax (Shea Marshall), and drums (David Libman), they have become one of the hardest working bands around.
Over the past seven years they've independently produced and released five albums, and have won the Phoenix Blues Society's "Arizona State Blues Showdown" three times.
In 2009, 2010, and 2013, The Sugar Thieves went on to compete in the International Blues Challenge in Memphis, where in 2009 they were voted one of the top ten unsigned blues bands in the world, and won the "People's Choice" award in 2010 and 2013. This summer, The Sugar Thieves traveled to France, where they played the Cahors Blues Festival, along with a slew of other gigs: from clubs and brasseries to markets, a cultural arts center, and even a BBQ joint in Paris. In 2013 alone.
This five-piece is always on the move, sharing their music with new audiences. They are a perfect mix of American music, with sounds of New Orleans, Memphis, Chicago, and Mississippi. They fuse Blues, Roots, Folk, Gospel, and a little Jazz, to make up one big bowl of Sugar.
Their hometown of Phoenix has dubbed them the "Meat Shakin' Blues Band." The Sugar Thieves are planning their next album "Sugar in the Raw" to be released in 2014. It will be acoustic, and will include many new original tracks by the Thieves. The show is $5 and begins at 5 pm.
Saturday, December 31 ring in the new year with the biggest party in the Verde Valley. DJ ill.Ego will help usher in the new year by keeping the dance floor rocking all night long. Main Stage will have party favors, drink and food specials, VIP seating and more. The evening costs $5 and begins at 9 p.m.
Main Stage is located at 1 S Main St in Cottonwood and is open Monday through Saturday 11 am to close and 9 am to close on Sundays 10 am to close. All events are free to the public unless otherwise noted.