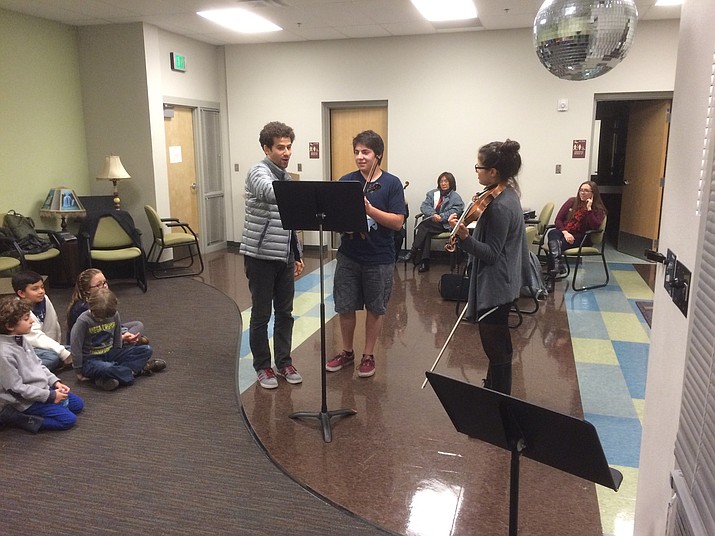 ---
---
Committed to enriching the cultural vitality of today's youth and their musical opportunities, Chamber Music Sedona will present a series of mission-based educational programs for Sedona and regional youth during the fourth Sedona Winter Music Festival Jan. 4-8.
"We're delighted to bring five extraordinary artists to Sedona to perform and work hands-on with music students from around the region," said CMS artistic director Bert Harclerode.
Violinists Bella Hristova and Meira Silverstein, and violist Nokuthula Ngwenyama will be joined by Festival co-artistic directors cellist Nicholas Canellakis and clarinetist Alexander Fiterstein for a five-day series of programs that will include "Concerts for Youth", a Saturday Free Open Rehearsal for the community, and a day-long Saturday hands-on training and coaching program, Musical Explorations and Discoveries (MEAD), for youth grades 7-12 in preparation for the Arizona All-Regional auditions later in January.
"Over the course of past 20 years we've presented nearly 100 in-school concerts for Sedona and regional youth," said Harclerode, "and once again, in addition to the educational components at the Sunday concert, we'll provide programs geared for grades 4-6 in an introductory fashion at Big Park School, and then grades 7-12 at Sedona Red Rock School – and these RRHS students will have the opportunity to work with our five artists Saturday in preparation for the Arizona All-Regional auditions."
The afternoon begins with the 9:30-10:30 a.m. Free Open Rehearsal, and then we get into the nitty gritty working on audition etudes and ensemble material.
Lunch follows with our Festival artists and students, then we move into coached performances of etudes and ensemble works, and then we finish with a 2-3 p.m. free public concert.
"We are so fortunate to have partnered with CMS as we prepare for the All-Regional Auditions," said SRRHS music teacher Courney Yeates. The in-school Concerts for Youth and MEAD are funded by the City of Sedona.
Hristova, Fiterstein and Canellakis are distinguished artist members of the Chamber Music Society of Lincoln Center, Silverstein is Yale educated and a private instructor, and Ngwenyama is the director of the Primrose International Viola Competition.
"We're very pleased to work with your young musicians," said Canellakis. "We've enjoyed our times during the last three years with Sedona and regional students and we were particularly excited to learn that the Sedona middle school system has been blended into the high school environment, and that Courtney Yeates has a fresh opportunity to build her program. We have a wonderful opportunity to inspire all participants from Winslow to Prescott, from Sedona to Cottonwood and Flagstaff and we hope that the music teachers will see this as a wonderful opportunity to give their students a unique edge in this year's Arizona All Region audition process. Kudos to Courtney Yeates for suggesting this unique way of blending our collective interests with the talents of northern Arizona music students," said Fiterstein.
The Festival begins Wednesday at 4 p.m. in partnership with the Sedona Film Festival at the Mary D. Fisher Theater in a screening of "I Think I Played Every Note" – a documentary about the early career of violinist Itzhak Perlman hosted by the artistic directors and Harclerode.
Thursday at 5:30 p.m. is a Salon Musicale in the Village of Oak Creek featuring the festival quintet accompanied by Arizona wines and Hors d'oeuvre. Saturday from 9:30-10:30 a.m. is the Free Open Rehearsal giving community members an opportunity to see music making in progress.
Registration for the Saturday MEAD training program is required and due no later than January 4th .at the CMS office or by email at SedonaCMS@aol.com. Registration forms and information is on line at www.ChamberMusicSedona.org