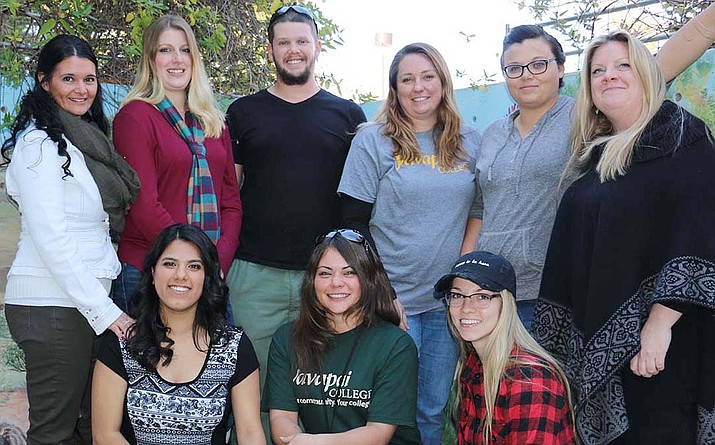 Originally Published: December 23, 2016 9:36 a.m.
On Day one of General Biology (BIO 181) class at Yavapai College's Verde campus, students took their seats with trepidation. Their collective fear: Would this be the class that dashed their healthcare career dreams?
Four months later – on the last day of class – laugher, tears and relief filled the YC Learning Center as BIO 181 study group members gathered to reminisce about their struggles, praise their tutor, YC alumna Jade McCullough, and applaud one another for successfully completing the course.
"These people had my back. They set me up for success," aspiring nurse Jill Hernandez said at the celebration. "Some of these relationships I will take with me through the rest of my life."
That sentiment was echoed over and over as the diverse study group – parents and working adults ages 18 to 45, 11 women and one man – gushed about the strength of their union.
Trevor Williams had a low C in BIO 181 mid-semester before joining the group. He was happy to have earned a B. "I credit it all to these people – every last one of them," he said, gesturing around the study room. "They made a world of difference."
"Without the study group, I would be failing," said Bobbi McLain, the group's self-described 'mother figure' who hadn't been in school since dropping out in the eighth grade. "I always wanted to go to school for nursing," she explained. McLain panicked, sobbed and almost threw in the towel after the first two class sessions. An invitation to join the study group after the third class proved life-changing. "The lightbulbs clicked," she said. Thanks to the study group, McLain earned an A in BIO 181 and gained the confidence to continue pursuing her dream of becoming a nurse. "I can do anything I put my mind to," she beamed.
Study group members credit McLain with making the three-hour, Tuesday/Thursday sessions lively and fun. She created songs and cheers with study material and, as mothers are apt to do, nagged fellow members when they were absent.
McCullough, meanwhile, helped her charges absorb the curriculum with lecture reviews, games, graphics, Facebook Q&As and an occasional pep talk. McCullough is now a Northern Arizona University student. But a similar study group helped her succeed in her YC biology class three years ago. "I had a lot of support when I was going to school here (YC). The Learning Center was a huge resource for me. I just wanted to be a resource for other people," she said. "I love that lightbulb, because I know how good it feels."
McCullough said in three years as a tutor at YC, she has never worked with a more determined and devoted group of biology students. By the end of the semester, study group members were teaching each other. "By the last test, they were doing my job," she said.
Neither McCullough nor any of the study group would abide a member falling behind. When Laona Benda missed an entire unit because of illness, group members sent her videos of study sessions and other helpful resources.
"That's the beauty of a small college. You don't get lost in the shuffle," McClain said.
The group plans to stay together – and motivate one another – as they navigate future courses like Microbiology. "If someone fails this class, they're not going to be in the next class with us," said Becky BiVanco, another aspiring nurse who "bombed" her first biology test, joined the study group and saw her scores climb dramatically.
BiVanco enjoyed the experience so much, she endeavors to work alongside McCullough as a biology tutor one day. "I never knew how much I love biology until I got into this study group," she said.