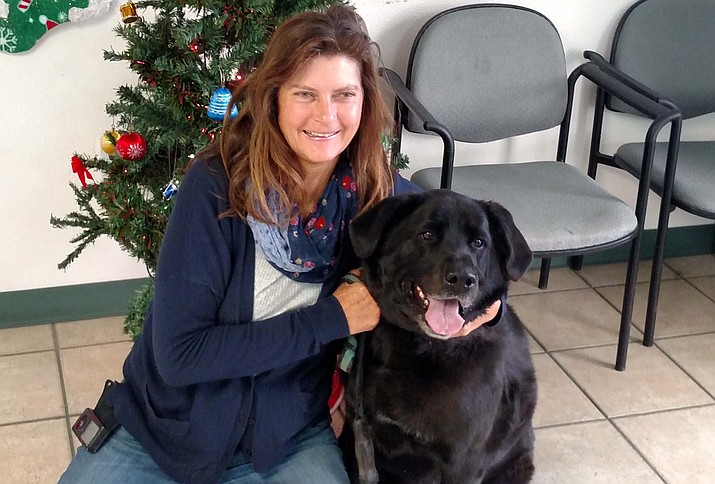 Originally Published: December 24, 2016 11:38 a.m.
It's been a quiet week in Clarkdale, my little town at the foot of Mingus Mountain.
Several weeks before Christmas, the town manager, Gayle Mabery, sent out on the email the annual Happy Holidays postcard with a photo of town employees gathered there on the steps of the Clark Memorial Clubhouse. But it didn't really look so much like a Christmas card this year. The maintenance guys were not wearing reindeer antlers. No one wore a Santa hat.
Last year's postcard theme was "Toyland," and the staff was sitting on tricycles, and the mayor, Doug von Gausig, held a kayak under one arm, and the Parks and Recreation director was playing jacks on the steps, but this year they looked cheerful enough but maybe a little inconvenienced.
It just looked like a photographer had rounded up the first 20 shoppers coming out of Fry's and said, "Stand here, won't you, and look at the camera and try not to think that your feet hurt or that you just spent $15 on a piece of fish that wouldn't feed a cat.
No, the Clarkdale town employees looked as if they had better things to do. The sun was out and they were a little over bundled in an effort to make it look like it was beginning to look a lot like Christmas. The police chief, Randy Taylor, and his male officers had started growing beards in November to raise money for a charity, and so his men looked as if they'd been out deer hunting for a couple of weeks and not had the opportunity to look at themselves in the mirror and possibly not had much luck shooting a deer, either.
A week before Christmas, school let out and so the high school English teacher, Ms. Meyer, was out walking down Main Street, breathing in the sweet air of reprieve, of Christmas vacation, walking under the mulberry trees lining Town Park. She takes this path several times a week, walking her dog, Owen Pancake, around this old company mining town built as Arizona's first master planned community, by United Verde Copper Company in 1912.
Several years ago the town held a contest to see who could guess the exact day that all the leaves would drop off the mulberry trees in Town Park. She doesn't know who won, but she admired the idea that you could get anyone -- leaves or children -- to do anything all at the same time.
She knows, she's tried now for 34 years. It isn't easy. Besides teaching World Literature to sophomores, she teaches two PE classes in the afternoon, two classes of freshman girls PE, and in December she felt that she had really turned mutiny into something resembling cooperation, that she had achieved a kind of tenuous détente.

Girls were no longer cinching up their loose, grey tee shirts in the back with pony tail holders. They had stopped tucking their knee-length basketball shorts into the legs of their underwear so that they looked like they were wearing big, red- mesh diapers.
She knows that in the mind of a 14-year-old girl, the school PE uniform simply doesn't reveal enough. It doesn't speak to their hard work, day after day, 35 minutes of grueling physical activity, dragging themselves without benefit of Gatorade around the $1.3 million all-weather track, the months of Presidential Physical Fitness sit-ups and the timed shuttle run where their shoes slipped on the gym floor, newly varnished in July, and the excruciating seconds of the flexed arm hang and all the other tortures Ms. Meyer had thought up for them to do.
The $12 unisex PE uniform offered no proof, no proof at all of what sculpted pulchritude lay underneath those uniforms; so they did their best to modify their suits as best they could for the boys who stood on the other side of the gym watching them, for "the enemy" as Ms. Meyer called them, watching carefully in the same baggy red and grey uniforms.
So on Sunday night a week before Christmas and without the exigency of a contest all the leaves dropped from the mulberry trees. Ms. Meyer walked Owen Pancake over the soft, dry grass to the gazebo in the middle of the park where the town Christmas tree stood in the middle of the stage, decorated, as is the custom in Clarkdale, by the town's children.
The gazebo itself, built in 1919, far outshines the children's tree, which is strung with only a single strand of small lights and otherwise relies on a panoply of oddly decorated Styrofoam lunch plates for its beauty and charm.
The tree is buttressed against the wind by a pile of sandbags, but the pipe cleaners have mostly worked well to anchor the plates to the branches. The children have used a variety of miscellaneous objects, things you might find when vacuuming out your car … plastic bottle caps, buttons, coffee stir sticks, artificial flowers, pennies, drinking straws and sequins and cotton balls.
Ms. Meyer sees a plate that looks a lot to her like a fox wearing a top hat with a black checker pasted in the middle of its forehead like Polyphemus' eye. And another plate, its rim cut into petals like a flower with a silver confetti "Happy Retirement" glued in the middle.
Ms. Meyer looks at her dog, looks at Owen Pancake's long, dark back. He has wandered away to the picnic benches. She watches him sniff the ground, the pink underside of his great lip-awnings dragging as he catches the scent of javelina, of birthday cake.
He is supposed to be on a diet, supposed to "reduce" as her grandmother would have said, but he has had limited success. If he were a woman, people would be forgiving. They would explain that he was "large-boned." She's uncertain about Owen's lineage except to say that his mother was certainly a black Lab and his father perhaps an aircraft carrier.
But the gazebo is all ablaze with thousands of lights tonight, like a garish and magnificent carousel against the dark grass behind it. She continues walking through downtown, past The Newstand bar, where a few people sit on vinyl stools, past the old Fairway Market windows, past the bank-turned wine-tasting room, on to collect her mail.

The maple floors creak in the post office under her shoes. It still smells vaguely like steel and grease, like the old Clarkdale High School auto shop, which it once was. There isn't much: a Christmas card from her dentist, a catalogue from a seasonal supplier of Christmas kitsch, of squirrel feeders, of door mats with chipmunks on them and dish towels that say "Welcome to my kitchen. Now get out." How does she get these things?
She throws everything away. She dare not leave her catalogues on the counter, a kind offering for others not yet possessed of jingle bell door chimes. A large hand-written sign in heavy letters with plenty of underlining and capitals and exclamation points warns patrons that "THIS COUNTER is NOT a trash Can!!!"
Is this the kind of post office Robert Bly was talking about? she wonders. She remembers discovering in college a poem of his titled "Driving to Town Late to Mail a Letter."
It is a cold and snowy night. The main street is deserted.
The only things moving are swirls of snow.
As I lift the mailbox door, I feel its cold iron.
There is a privacy I love in the snowy night.
Driving around, I will waste more time.
In her pocket is the only mail she will keep, a little white envelope. It's from Jasmine, a girl in her fifth hour PE class -- not a mutineer but one of the ones on her side. On the back, an arrow in black ink points down to the flap: "Open." Inside is a plain white index card with statements, evaluations about her personality and character. "You are a nice, respectful, important and a educated person." There's more: "Friendly. Intelligent. Strong. Ambitious. " It is the best evaluation she has ever received, including the ones stamped and sealed by the Dept. of Education. Then in many places on both sides of the card and on the envelope the girl has written, "Note: Do not change Ms. Meyer, do not ever change. "
Well, when you are 14, everything changes hour to hour, changes every time you wake up. And at 58, herself, what could she say about change? For you, Jasmine, I won't. Just for you, I will continue to eat too much chocolate. I will not finish painting the eaves as I set out to do eight years ago. And the fact that I threw my own Christmas lights over the bushes in the front yard just like I keep my desk at school is OK with me if it's OK with you. She fingers the white card in her pocket and thinks about this girl, skinny as Popeye's Olive Oil, with dark, wide-open eyes, a girl who says "Thank You" every day when she goes out the locker room door.
Ms. Meyer turns South on Main Street toward home. Owen lags behind, checking for raccoons in the culverts. The sky is not yet black, black as it will be by midnight, but a dark blue upholstered with stars like a jeweled antimacassar thrown over the chair back of Jerome. She is glad for everything, for her own children who rode their bikes down these streets; glad for the ladder truck and six policemen who came to arrest a baby rattlesnake in her yard; glad for the privacy of a dark night; glad for the neighbors appearing now in the amber light of their living rooms, soft figures. Intelligent. Respectful. Strong, maybe. Friendly. Nice. Important. Don't change. Don't change. Don't ever change, my lovely girl. Stay the way you are.