---
---
Dropkick Murphys – 11 Short Stories of Pain & Glory
Dropkick Murphys
After 20 years, Dropkick Murphys remain bigger than ever, having sold over six million albums worldwide. Their forthcoming CD, 11 Short Stories Of Pain & Glory, is a soundtrack to tragedy and triumph alike. On this album, the band carries on the tradition of rough and tumble storytelling – the kind of writing that never leaves fans wondering whether the band have lived what they're singing about. A look back at childhood, a snapshot of a clueless jerk, a stop-you-in-your tracks reflection on a terrorist tragedy.
Tracks include: The Lonesome Boatman, Rebels with a Cause, Blood, Sandlot, First Class Loser, Paying My Way, I Had a Hat, Kicked to the Curb.
Halestorm – ReAniMate 3.0: The CoVeRs eP
Atlantic
ReAniMate 3.0: The CoVeRs eP will be released on January 6, 2017 and includes covers of Whitesnake, Sophie B. Hawkins, Joan Jett & The Blackhearts, Twenty One Pilots, Soundgarden, and Metallica.
Tracks include: Still Of The Night, Damn I Wish I Was Your Lover [Explicit], I Hate Myself For Loving You, Heathens, Fell On Black Days, Ride The Lightning.
The Chainsmokers – Collage EP
Columbia
The Chainsmokers are a DJ duo consisting of Andrew Taggart and Alex Pall. They had a top-20 single in several countries with their 2014 song "#Selfie," reaching number 16 on the US Billboard Hot 100, number three in Australia, and number eleven in the United Kingdom. They released their debut EP, Bouquet, in October 2015.
Tracks include: Setting Fires, All We Know, Closer, Inside Out, Don't Let Me Down.
David Bowie – Legacy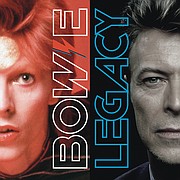 Sony Legacy
The album's contents are mostly identical to the two-disc edition of David Bowie's previous greatest hits album Nothing Has Changed (2014), with a few differences between both releases.
"Love Is Lost" and "Sue (Or in a Season of Crime)", which were present on Nothing Has Changed, are replaced by three new selections: "Lazarus" and "I Can't Give Everything Away", both from Bowie's final studio album Blackstar (2016), and the radio edit of the Heathen song "Slow Burn" (which also appears on the three-disc version of Nothing Has Changed).
Tracks include: Let's Dance, Ashes to Ashes, Under Pressure, Life On Mars? (2016 Mix), Changes, The Man Who Sold the World, Starman.