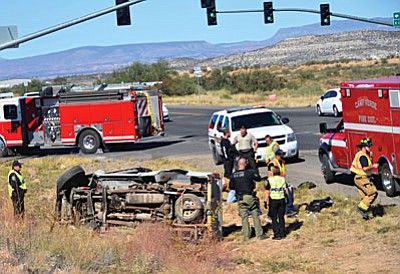 Originally Published: February 19, 2016 8:14 a.m.
VERDE VALLEY - With a $6 billion gap between the Public Safety Personnel Retirement System's assets and obligations, "something has to be done to change the plan to ensure it survives," said Terry Keller, fire chief for both Camp Verde and Montezuma-Rimrock fire districts.
Legislation signed by Gov. Doug that will take effect July 1 means that newly-hired police and firefighters will be required to pay a larger portion of their salary into the retirement package. Or they can choose a "defined benefit" pension system in which both employee and employer can contribute a set amount.
The pension would be based on earnings.
Working longer - and for less
Not all police and firefighters are compensated equally in retirement. Fight crime - or fight a fire, but pay more out of each paycheck into retirement. And pay longer to be eligible for that full pension.
Which means these agents of safety may need to work longer, which could lead to the body breaking down and maybe struggling to meet the physical demands of the job, said Camp Verde Marshal Nancy Gardner.
It could also affect the recruitment and retention of officers.
"Given the line of work, the officer is subject to dangerous situations," Gardner said. "Although most do not do it for the money, after 20-25 years the stress and physical fitness demands many times requires the officer to retire."
"Unfortunately, to ensure that the retirement system can continue, changes were necessary."
There is "no easy fix" to this issue, said Rudy Rodriguez, administrative services general manager for the City of Cottonwood.
"Currently we are holding a $9 million-plus liability, of which we have very little control over," Rodriguez said. "This liability will not go away unless we slowly chip away at it and hope that PSPRS (Public Safety Personnel Retirement System) investment returns improve dramatically.
As for the legislation, Rodriguez said "it is a good start, but will probably have an uphill battle with the unions. The voters will also play a big part."
Hazardous professions
Firefighting and law enforcement are hazardous professions. Keller said that "operating vehicles in 'code 3' mode is riskier than driving normally with traffic. Entering immediately dangerous to life and health environments, such as fires or hazardous material spills, can expose one to toxins that the normal population is not normally exposed to."
A state pension, such as PSPRS, is "an attractive means to ensure quality candidates can be recruited and retained to serve their communities, and to maintain fitness to serve until eligible to retire," Keller said.
But Keller understands the purpose of the pension changes is to increase the age of retirement - and to extend the length of service requirements before eligibility for retirement. Making changes in the program to assure that a program exists down the road.
Recruitment, retention could be affected
Back in Arizona after a stint on California's central coast, Cottonwood Police Chief Steve Gesell said he kept his eye on pension reform the past five years.
Gesell, who served as commander and acting police chief in Atascadero, California, and Chief of Police in City of San Luis Obispo, California, said the new legislation "appears to contain similar provisions, such as creating a multi-tiered retirement system in order to stabilize it."
How the change will affect officers retiring - or soon to retire, Gesell said the "cost of living cap" could cause concern. Though most affected "would not view it as significant enough to adversely impact their retirement plans."
But it could affect recruitment of quality candidates -- and once hired, their retention.
"It is unknown how much, if any additional impact this will have on our ability to hire the next generation of police officers," Gesell said. "When many of us began our policing careers, pensions were the last consideration, if considered at all. I'm optimistic that will remain the case, however I think it is important to monitor recruitment trends and remain cognizant we are in a market driven economy."
Back to health
"It is predicted to that it will take decades for these changes to get the fund back to health," Keller said. "What is imperative is that the contribution rates become lower as some organizations are inordinately high rates."
Flagstaff Fire Department pays 70 percent of its workers' salaries in premiums. Prescott's police pension obligations are more than 70 percent.
Camp Verde Fire District currently has a contribution rate of 16.78 percent, which means that for every dollar of payroll, the city must contribute 16.78 percent for the employees' pension contributions. Camp Verde's contribution rate will decrease to 15.77 percent next year.
And Montezuma-Rimrock Fire District currently has a contribution rate 21.14 percent, which will decrease to 19.14 percent next year.
-- Follow Bill Helm on Twitter @BillHelm42 and on Facebook at @CampVerdeBugle
More like this story