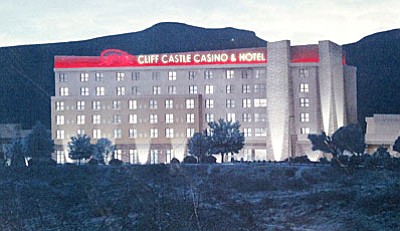 Originally Published: January 16, 2016 2:48 p.m.
CAMP VERDE - At 8 a.m. Thursday, Jan. 21, Cliff Castle Casino Hotel will hold a groundbreaking ceremony for the six-story hotel and a 300-space parking garage the Yavapai-Apache Nation will add to the site of the casino and existing hotel.
The project is expected to be completed in December 2016.
DreamCatcher Hotels, a development company in Memphis, Tennessee, will develop the new hotel, which will have 122 rooms, either with king-sized beds, or double-queen rooms. There will be 12 luxury suites as well. The hotel has many amenities including an indoor pool, multi-purpose conference rooms, a coffee shop and retail outlet.
Yavapai-Apache Nation Chairman Thomas Beauty stated "this project is monumental for our Nation as well as Northern Arizona. We're excited to offer this chance to experience our unique area with an all-new hotel, create jobs for our economy and bring visitors from near and far to our beautiful homelands."
Camp Verde Town Manager Russ Martin said there will be both temporary and long-term employment due to the casino being built. It will also help bring more people into Camp Verde, which will hopefully help the economy grow, he said.
According to James Perry, Marketing Operations manager for Cliff Castle Casino Hotel, the existing hotel, located on Middle Verde Road across from the Yavapai-Apache Nation's Cultural Resource Center, would be remodeled after the expansion is completed.
Thursday's groundbreaking will be held adjacent to the casino behind, the parking lot on the left. The public is invited to the event. Guest speakers include Beauty, Cliff Castle Casino Hotel General Manager Mary Ketterling and Camp Verde Mayor Charlie German.
-Follow Aryssa Carvalho on Twitter @aryssamashon and on Facebook.com/cvbugle
More like this story