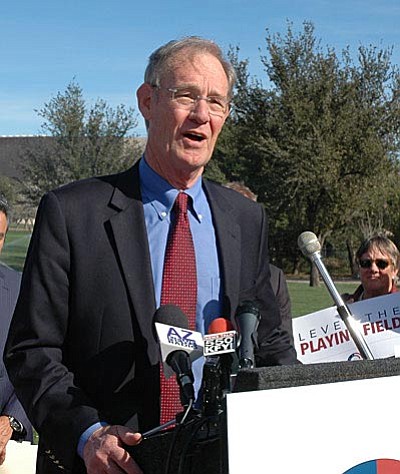 Originally Published: January 22, 2016 8:57 a.m.
PHOENIX -- Saying the current system is broken, a group has launched a twin-pronged campaign to convince voters to make major changes in the state's political system.
One would revamp the election system for everything from statewide to local offices to operate closer to what happens in most cities. All candidates would run against each other in the primary, with the top two vote-getters facing off in the general, regardless of party affiliation.
Proponents note there are more Arizonans registered as independents than with either major party.
The more far-reaching proposal would require disclosure of any sources of "dark money' spent on candidate campaigns. Put simply, any source of funding of $10,000 or more, whether direct or laundered through other groups, would have to be made public.
That would effectively override existing gaps in the state's campaign finance laws which allow groups incorporated as "social welfare' organizations to hide the true source of the dollars they are spending to influence who gets elected.
And there appears to be a lot of it out.
In the 2014 gubernatorial race, the $5 million spent on the general election directly by Republican Doug Ducey and Democrat Fred DuVal was eclipsed by the $9 million others spent trying to influence the race.
And two Republicans got elected to the Arizona Corporation Commission with $3 million spent by outside groups. Arizona Public Service, the state's largest utility which is regulated by the commission, refuses to confirm or deny whether it was the source of any of those dollars.
"I believe all Arizonans have a right to know who is behind every major political contribution,' said former state Attorney General Terry Goddard. He said, though, that's not the case now.
"As a result, perfectly legally, many forces came into the last election without disclosing who they were, without giving voters any idea who was the master behind the screen,' he said. "I believe that we must now put our right to know into the Arizona Constitution.'
Backers of the measure need close to 260,000 valid signatures petitions for each of the two separate measures by early July to qualify for the November ballot. Organizers said they have a combined budget of $13 million, with a $1 million pledge already in hand.
There already is opposition to the top-two primary measure. The Arizona Republican Party has formed a campaign committee to collect donations to keep the current system where each party nominates its own candidates, and each party's nominee then gets to run in the general election.
Less clear is who will take the lead in defending anonymous funding of campaigns. But some groups that have been involved in independent expenditure efforts are taking a closer look.
Garrick Taylor, spokesman for the Arizona Chamber of Commerce and Industry, said his organization is reviewing the language. But he said the chamber is generally opposed to any effort "to diminish the business community's voice in the political process.'
Nothing in the measure, however, actually would block the chamber -- or any group -- from spending as much as it wants. All it would do is force whoever is spending money on elections to disclose any other group or individual who has given at least $10,000 to the effort.
But Taylor said approval of the measure would effectively have the same result, with some donors choosing not to participate.
"We're concerned about disclosure leading to the creation of a government database that will track all of the causes and issues that private citizens support,' he said
"We don't want disclosure to become just a way to limit the speech someone finds objectionable,' Taylor continued. "These efforts chill speech and free association.'
That's also the concern of the Goldwater Institute.
"We believe every American has the right to support causes they believe in without harassment and intimidation,' said Starlee Coleman, the organization's spokeswoman. "And we oppose any effort to create a government list of private charitable contributions and political activity.'
But Goddard said letting voters know who is trying to influence their votes "is critically important to restoring confidence in our election system.'
Attorney Kory Langhofer, who has represented some groups that have made these kinds of expenditures, questioned the legality of some of the provisions.
Most notable, he said, is a section which says if an organization gets an anonymous donation it cannot spend the money. He said that becomes a form of censorship.
Langhofer said the only requirement should be that whoever is spending the money makes its best effort to find the source.
He denied that creates an incentive for groups to do their best not to get that information.
Political consultant Chuck Coughlin, who is working to gain approval of both measures, had a counter for those who find the disclosure troubling from a personal liberty standpoint.
He pointed out that while the U.S. Supreme Court has removed many of the legal limits on campaign donations and spending, it has never barred states from requiring disclosure. And he quoted from Justice Antonin Scalia who said people should be accountable for their political acts.
On Twitter: @azcapmedia