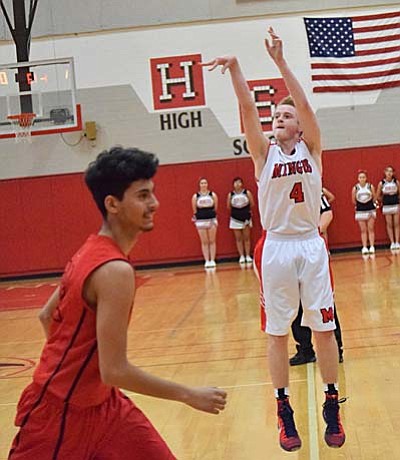 Originally Published: January 23, 2016 7:03 a.m.
COTTONWOOD- Heading into Christmas break the Mingus Marauders boys' basketball team hit a rut losing four of five games, including a 20-point to the Bradshaw Mountain Bears and a 13-point loss to the section leading Moon Valley Rockets at Talking Stick Resort Arena.
Since that time, the Marauders have started to streak winning six of their past seven with their only loss coming at the hands of Division II Deer Valley. Head Coach Dave Beery said the biggest change his No. 14-ranked Marauders have made, is they have started to play as a team.
"They seemed to make a collective decision to work together to be the best they can as a team," Beery said. "Before, it felt like we had some guys who were all in, but other guys who were still worried about their personal stats and preoccupied with what other guys were doing. Now we are focused on playing from whistle to whistle and making plays for each other."
That philosophy continued Thursday night when the 15-7 Marauders dismantled the visiting Glendale Cardinals by 33-points. Senior Ashton Loring finished the game with 20 points, 18 of those coming from behind the three-point line. The senior point guard also dished out 10 dimes for the Marauders in their blowout victory. Juniors Issac Escalante and Miles Tapija finished with 13 apiece and senior sharp-shooter Evan Snyder finished with 12, drilling two three-pointers.
It didn't come easy for the Marauders though as the two teams traded leads early in the first quarter which left the Marauders with only a four-point lead. They extended that lead to 12 going into halftime and Beery said the team made some minor adjustments going into the second frame.
"We tried to do a better job of taking away the middle of the court in the 2nd and after half," Beery said. "We really emphasized continuing to play at our pace, we could see that we were starting to wear them down."
The Marauders stuck to that game plan throughout the remaining three quarters and continued to push the pace in the fast break and full-court press. At the end of three, the Marauders had extended their lead to 18 and never looked back as Beery emptied the bench with time to spare in the fourth quarter and the "Start the Bus" chant had started.
Even with the run the Marauders have had, the second-year Head Coach sees ways his team can improve as the season nears its end and they make the final push to a playoff berth.
"We have to do a much better job of closing quarters, for some reason we seem to waste a lot of possessions near the end of quarters and have a hard time getting stops," Beery said. "Defensively, I think we need to be more consistent. We have some great stretches and some poor stretches. We did not defend well the first five minutes of Thursday night's game."
As of Friday night the Marauders are ranked 14th in the Division III power point rankings and are ranked third in the Division III Section IV rankings. Only 24 teams make the State Tournament and six teams make the sectional tournament with each Sectional Champion earning an automatic bid to the State Tournament.
The Marauders will face off with two sectional opponents next week as they visit the Independence Patriots on Wednesday and close out the week at home against the Fountain Hills Falcons. The Marauders will close out the season with two divisional opponents in Tuba City and No. 2-ranked Estrella Foothills.
As of late everyone has contributed for the streaking Marauders, but Beery said that's what makes the playoffs fun, because somebody usually emerges to play a much larger role that they did throughout the season.
"We have had so many guys contributing lately, anyone really could," Beery said. "In my experience, you usually know what you're getting from your top two or three guys; but somebody else really steps it up. With so many people playing a big part on this team, I think we really need somebody to elevate their play to a higher level, and I believe that will happen."
Beery went on to point out the play of Miles Tapija, Gerardo Angulo and Issac Escalante as they have started to get hot. But he didn't leave out the performance of role players Kyle Houston and Victor Anaya who may not see the floor as much but have performed under the radar in several games.
The Marauders tip-off on Wednesday at Independence High School at 7 p.m. as they try to improve their sectional record to 8-2.
-- Follow Greg Macafee on Twitter @greg_macafee and Instagram @VerdeValleyNews