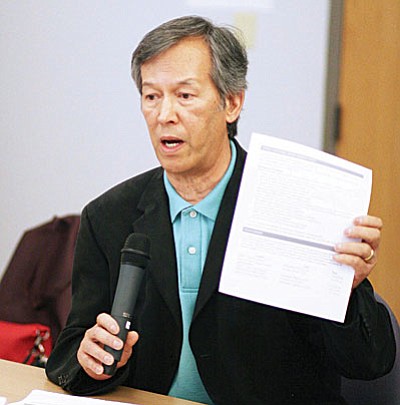 Originally Published: July 9, 2016 3 p.m.
VILLAGE OF OAK CREEK - In June, members of the Yavapai College District Governing Board decided that questionnaires answered by Verde Valley residents about how to best meet their needs would be provided to the board - and that the board would then process the information.
The job of the advisory committee, said board member Al Filardo, is to collect the data, "not analyze it."
Wednesday, the Verde Valley Board Advisory Committee plans to review the questionnaire responses and to consider possible advice to the District Governing Board.
In November 2015, the District Governing Board tasked the committee with soliciting community feedback. At this time, the committee has received 66 responses, and according to Filardo, 11 of those responses came via the Verde Independent.
Besides looking to advise the district governing on the findings of the questionnaires, the board advisory committee will review possible advice to the Governing Board:
• Possible advice regarding a minimum percentage of the money collected in the Verde Valley through taxes, tuition, fees and other means, be spent on education in the Verde Valley in each designated period.
• Possible advice concerning the Sedona culinary arts and hospitality programs being developed.
• Possible advice regarding a separate administrative college.
• Possible updated advice on the college's latest 2015-2019 Strategic Plan response to the committee's recommendations.
• Request for Representative of College Marketing and Recruitment to meet with the board advisory committee.
• Advice on domicile of future new hires for dean positions.
The Verde Valley Board Advisory Committee will meet at 8:30 a.m. Wednesday at Schoolhouse Restaurant, Vista Hall, located at The Collective Sedona, 7000 Highway 179 in the Village of Oak Creek.
As of July 12, a copy of the agenda can be found at www.yc.edu/v5content/district-governing-board/vvbac.htm.