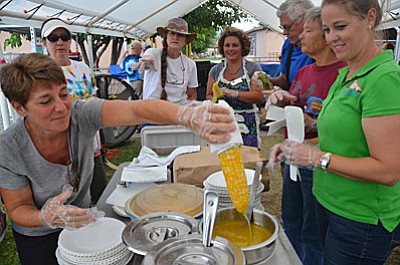 Originally Published: July 10, 2016 5:58 a.m.
CAMP VERDE - This weekend, Camp Verde will celebrate the silver anniversary of its most golden of crops.
Though corn has been a part of Camp Verde since there has been a Camp Verde, Cornfest has for the past 25 years been the town's way to recognize things that make the town special each summer.
Good times, good friends, fun activities, plenty of warmth - and plenty of sweet, succulent, delicious Hauser's corn.
From 3 p.m. to 10 p.m. Friday, July 15 and from 9 a.m. to 10 p.m. Saturday, July 16, Cornfestivities will take place in downtown Camp Verde. A weekend craft fair in the community center, vendors selling their wares, plenty to eat and to drink, as well as the customary beer garden - and plenty of live music both Friday and Saturday.
Live music is always an important part of Cornfest. And this year, festival goers will be able to listen to - and see - five live acts on stage at the Ramada next to Fort Verde.
Friday, Sweet Baby Ray will take the stage at 4 p.m., followed by Dave Rice at 7 p.m. On Saturday, music lovers will be treated to the sounds of Jalon Peter's Group Band starting at 11 a.m., Steve Estes at 1 p.m. and Cheap Sunglasses from 6 p.m. until the proverbial doors close at 10 p.m.
Take a hot air balloon ride Saturday - pretty much any time of the day, says Nikki Miller of Camp Verde Promotions, organizers of this and every Camp Verde event.
"If the weather is good, he has help for all day. Wouldn't that be nice?" Miller says. "If there is a breeze that just barely blows your hair, it is too windy."
The hot air balloons are tethered to the ground, taking balloonists in the air high enough for a panoramic view of the Verde Valley but not so high as to drift to Payson.
Corny's Corn Hole Competition is back, from 6 p.m. until 10 p.m. both Friday and Saturday on the soccer field. Says Miller, the competition is just like horseshoes.
Except that there's no pit, no stake and no horseshoes. Toss corn bags into holes cut out of a board, three points for going in the hole, one point for the bag settling in on the board.
For folks a tad more competitive, there's also a vintage baseball game at noon Saturday at Fort Verde State Historic Park. At Fort Verde, baseball was two words, the ball was rather soft, gloves were not used to field the ball - and arguing balls and strikes a no-no, with a two-bit fine as penance for the misdeed. Come see the Fort Verde Excelsiors as they take on the Glendale Gophers.
Anyone interested in the Fort's history - but not of grown men chasing after a ball can stroll the grounds and listen to stories told by reenactors donning 1800s-inspired attire, or learn about adobe brick making.
Regular park fees to Fort Verde apply during Cornfest. Park entrance fees are $7 for ages 14 and older, $5 for ages 7-13 and free for ages 0-6. Pick up a coupon for $1 off admission to the Fort (up to four people) at the Camp Verde Promotions tent on the soccer field.
For more information about Fort Verde State Historic Park, call (928) 567-3275 or visit http://azstateparks.com/Parks/FOVE.
Had enough fun outdoors? Need some time in an air-conditioned building - but don't want to be away from the action? Then mosey on down to the community center gym from 3 p.m. until 8 p.m. Friday and from 10 a.m. until 8 p.m. Saturday for the craft fair. They knit, crochet, sew, carve, make jewelry, make jelly, they write books. "You will be amazed at their talents," says craft fair organizer Mary Nordstrom. "Many people in our area keep busy by doing their hobby almost daily." And Cornfest provides an outlet for the town's crafty people to show and sell their art.
Also open during Cornfest are the 1933 Rock Jail, the Camp Verde Historical Society museum and the Verde Valley Archaeology Center. Saturday at the jail, come see blacksmithing demonstrations.
Offsite parking to Cornfest will be available from noon until 8 p.m. in the Bashas' parking lot with a shuttle to downtown.
And start the day with a trip to the Farmers' Market, located at the Ramada next to the Fort. Camp Verde Promotions will be selling Hauser's corn at the Market.
For more information about Cornfest, call (928) 301-0922 or visit www.campverdepromotions.org. To volunteer, contact Nikki Miller at (928) 592-9137, Bobbie Tennant at (928) 300-0179 or Carlie Androus at (928) 300-7077.
If You Go ...
• What: Camp Verde Cornfest
• Where: Camp Verde Community Center Soccer Field and Ramada at Main Street and Hollamon Street in downtown Camp Verde
• When: Friday, July 15 from 3 to 10 p.m., and Saturday, July 16 from 9 a.m. to 10 p.m.
• How Much: Admission is free
• Contact: 928-301-0922