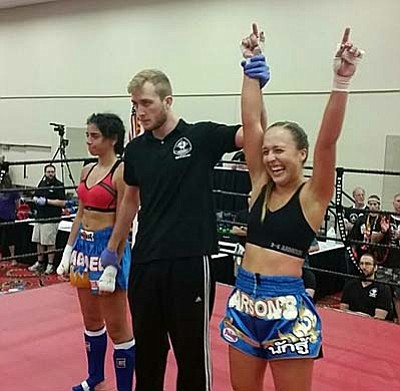 Originally Published: July 23, 2016 10:33 a.m.
CAMP VERDE - Clifford Larson, coach of Larson's Gym of Camp Verde (and member of the Yavapai-Apache Nation) confirmed on June 30 that Camp Verde kicking box team member will travel to Thailand to participate in an international Muay Thai tournament beginning August 22 and ending September 1.  
Shayla Murdock, 14, of Camp Verde has been chosen by the I.K.F. Of Arizona to travel to Bangkok to compete in a world tournament. Murdock took the Muay Thai championship June 18 in Des Moines, Iowa.
Even though Murdock is not a Nation member, Larson is very proud of the representation Murdock will be representing for all of Verde Valley. 
The Camp Verde team also features several Nation members including Pita Larson, who is the Tribal Assistance Coordinator for the Nation.
Five fighters went to Iowa on June 17, and it was here that Pita Larson kicked started the tournament weekend, fighting for the very first time.
"She (Pita) came out with her first victory that day and advanced to the Saturday event. She had a total of eight women in her division for the tournament," said Coach Larson. Pita Larson is the wife of Coach Larson and helps with coaching at the gym.
Pita had all the confidence to win her first fight said Coach Larson. On the second fight, Pita came up short in the ring for the championship.
"The first time I won, I thought I would be really nervous when I first signed up for it but actually pretty calm when I got into the ring. Once I got in there, I kinda felt I knew what I was doing. So, I wasn't as nervous when I started fighting. I liked it. I had a lot of fun in there," she said. "I was kinda sure I won the first one but the second one was a lot harder. The girl was bigger---and taller than me. She had good straight punches".
Other fighters from Camp Verde included Shawna Gallardo, 16 who won her first fight that Saturday and advancing to the championship that Sunday.
Other fighters included Wesley Loveall who took home a loss and Inez Perez who also fought hard but a win to the other boxer according to Coach Larson.
It was here that Shayla Murdock entered the ring.
"She dominated every single round and displayed excellent technique and left the ring as the Muay Thai Champion," said Coach Larson proudly.
Murdock said, "There's no real feelings for it. There are so many emotions all at once. You just kind of think about all your steps to get to where you are, all the hard work, all the people involved---and then, you realized you won! (with emphasis)".
Murdock said the first fight on the previous day of the championship, she had trouble figuring out her opponent. "She was very skilled, very tough but once I figured her out, I just used it. I was more aggressive and countered what she did".
In the final fight, Murdock hit her opponent so hard at the end of the first round that the referee had to stop the fight momentarily for an eight count said Murdock. During this eight count, it gave Murdock's opponent to recover also. "At the beginning of the round I felt I had a chance at knocking her out," said Murdock confidently.
Coach Larson is a positive person and knows the business of training fighters, especially teenagers. He was also a professional kick boxer once upon a time with many wins.
"Every fighter went and gave it their all. It takes a lot of hard work and courage to step forward in the ring. It is a sport not meant for everyone. Each fighter left the tournament a better fighter and will continue to train for the tournaments coming up," said Coach Larson.
In the U.S., the Larson Gym fighters are heading to the IKF Tournament in Orlando, Florida and then on to Thailand!!!