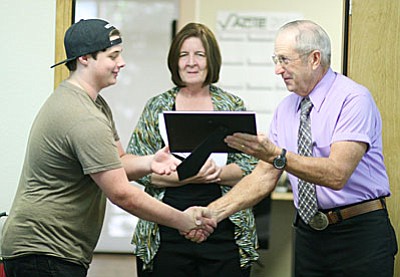 Originally Published: June 4, 2016 2:50 p.m.
COTTONWOOD - Valley Academy Career and Technology Education (VACTE) recently recognized five Mingus Union High School students who completed career and technical education programs.
VACTE gave awards to Brandon Epperson, Belicia Martinez, Brian Porter and Zachary Sangiovanni for having successfully passed all required courses in a specific CTE Program as required by the Arizona Department of Education.
The students also passed the Arizona Skill Standards Assessment associated with their particular career and technical education program of study.
According to Program Manager Donna Green, Valley Academy Career and Technology Education recognized a total of 210 students this year through its partnering schools and central campus programs.
Porter studied automotive technology, mechanical drafting and technical theatre. He also earned several dual enrollment credits from Yavapai College in automotive and passed five automotive service excellence industry recognized certifications.
Epperson completed agriculture, mechanical drafting, and welding programs through VACTE.  He earned dual enrollment credits in his agriculture program.
Martinez completed agriculture, sports medicine and certified nursing assistant programs. Belicia also received her nursing assistant certification from Yavapai College through dual enrollment credits and participated in the college's graduation ceremony in May. Martinez also earned dual enrollment credits in agriculture.
Zachary Sangiovanni completed agriculture, welding, and film and television programs through the career and technology education program.
Sangiovanni also earned dual enrollment credits from Yavapai College in agriculture.
A fifth Mingus student, Vivian Koeppe was recognized for being the first student to earn two Yavapai College certificates through her participation in the program's dual enrollment. 
In May 2015, Koeppe participated in Yavapai College's graduation and received her automotive technician certificate; during this year's Yavapai College graduation, Koeppe receiving her nursing assistant certification. 
Koeppe also earned her Arizona Certified Nursing Assistant license.