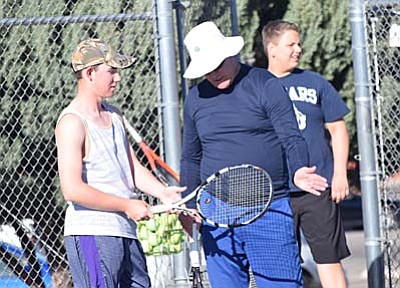 Originally Published: June 16, 2016 1:25 p.m.
VERDE VALLEY - On Friday, June 3, United States Professional Association Master Professional Larry Lineberry was selected as the coach of the Southwest Boys & Girls, 16 & under, Zonal team. The team will play in competition in Salt Lake City, Utah the week of July 6 to the 11. This is the fifth consecutive year that Lineberry was been chosen to coach the team.
"I am excited and honored to be selected again as the Boys & Girls 16 & under Zone coach" said Lineberry. "Our team's performance has continued to improve yearly even though there are different players every year. These are some of the best players in our section and they all have big dreams of earning tennis scholarships to colleges across the country. I am delighted to help them any way I can."
The SWS Zonal team is composed of 12 competitors, six boys and six girls, who are all ranked in the top 10 of the SWS 16 and under singles division. The United States Tennis Association hosts the competition that will feature 12 teams from sections if the Western zone of the USTA. This includes teams from the Pacific Northwest, Southern California, Southwest, Intermountain and Hawaii.
Throughout the competition, each match will use the NCAA team tennis format so players can prepare for college tennis competition.
Nicole Fintell, who is the SWS junior competition director, is in charge of coaching selections for SWS teams of all ages. She is Lineberry's coaching style has proven to be very popular and effective with players.
"It is hard work. He will coach 81 matches over five days from 8 am to 4 pm continuously and as many as five matches at a time," Fintell said. "Three years ago, Larry was voted best coach by the Zonal event organizers."
Lineberry spent the spring sports season coaching the Mingus Union Boys Tennis team and was voted the 2015 SWS Volunteer of the Year award for his countless hours of hard work.
--Follow Sports Reporter Greg Macafee on Twitter @greg_macafee or contact him at 928-300-1376, gmacafee@verdenews.com