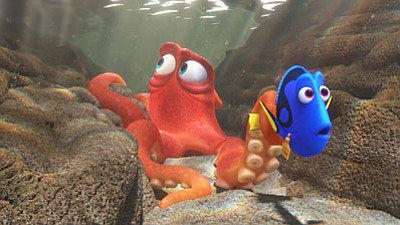 Originally Published: June 20, 2016 3:38 p.m.
With the release of Finding Dory, 13 years after its parent film, Finding Nemo, I feel it is appropriate to report that there is good news, very good news and some less than good news in this Disney/Pixar animated production.
In Finding Nemo, Dory was the fish that attached herself to Marlin, a clown fish swimming the seas to find his abducted son, Nemo. Dory, a blue tang fish was cute and loveable, but plagued by the absence of any short-term memory. Her unfocussed actions were often hilarious, while problematic for Marlin.
Dory has her own life story revealed in this film. She is a loving child with a doting mother (Diane Keaton) and father (Eugene Levy). At one point, Dory wanders off and becomes lost. Dory cannot remember where she was or what she was doing a few minutes ago, but she knows she has lost her beloved parents.
Finding Dory is about Dory finding home. She meets a pair of clown fish she recognizes and who know her - Marlin and Nemo. They join her in her search.
Dory wanders the sea and comes up to the 'Marine Life Institute' that houses many species of aquatic life. Dory is tagged as an inmate. She meets and is befriended by Hank, an octopus, (Ed O'Neill). Hank helps Dory because he wants to obtain the Institute's ID tag she has been given. Hank's ambition is to achieve residency at the Institute so he can retire!
Other creatures, who know Dory, converge to help. There is Destiny, a whale shark, Bailey, a beluga whale, Becky, a loon bird and others. Each step of the way Dory encounters danger, chaos, and confusion. The companions help her overcome these obstacles and the film has a frenetic, exciting happy conclusion.
Dory is voiced by Ellen DeGeneres, and there is no doubt it is Ellen behind the lost soul. Her voice and facial expressions clearly bring us Ellen - and that is fine! The same is true for the character, Marlin. Marlin's voice and the facial expressions to go with it are unmistakably Albert Brooks.
The animation by the Pixar specialists and their computers is pretty flawless and provides a very entertaining visual experience.
All of the characters are on Dory's side (as we are) and they are helpful and endearing. Some characters are introduced with unique special skills to overcome unique hurdles that Dory faces. That tends to reduce the suspense in some of the more intense scenes.
Finding Dory has plenty of humor and colorful underwater scenery to be a treat for kids, but I found it was too long to hold interest through to the end. And the younger viewers may have trouble following Dory's flashbacks to her youngest years, where she finds some guidance in memories of her parents' advice.
Finding Dory is at Harkins Sedona 6 Theater.