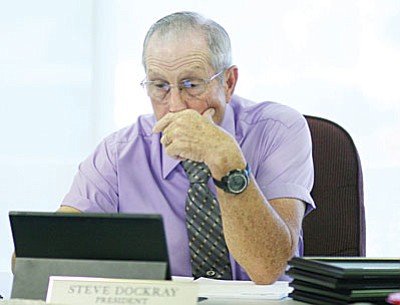 Originally Published: June 23, 2016 4:16 p.m.
COTTONWOOD - Before Tuesday's meeting of the Valley Academy Career and Technology Education (VACTE) governing board, Superintendent Lisa Aragon shared a hug with board member and local business owner Charlene Day.
"Charlene told me that she'd miss me," said Aragon, who will leave the career and technical education program at the end of the month to be closer to her family in Wyoming. "Everyone in this community has accepted me. I'm going to embrace that. And hopefully, one day, I will be back."
Though Aragon's last day on the job will be June 29, she could be asked to serve as a consultant to help the new superintendent, according to board president Steven Dockray.
How much time Aragon spends helping her replacement, and what she is needed to do "depends on which candidate we end up with," Dockray also said.
Tuesday, the VACTE governing board spent more than an hour in executive session before Dockray announced that the board "directed me to meet with the two candidates to see if we can negotiate terms with either candidate," he said.
The two candidates that the career and technical education program will negotiate with are Camp Verde High School Principal Bob Weir and Bagdad School District Superintendent Bryan Bullington. Both Weir and Bullington interviewed for the superintendent position that went to Aragon on May 25.
By the end of June, Dockray says he hopes to have an agreement with one of the candidates.
For now, Aragon is in Thatcher at a Joint Technical Education District (JTED) retreat, "taking copious notes to bring to my replacement," she said.
Aragon has accepted a position as assistant principal at Riverton High School in Riverton, Wyoming, a position she held from 2001 through 2003.
-- Follow Bill Helm on Twitter @BillHelm42 and on Facebook at @CampVerdeBugle