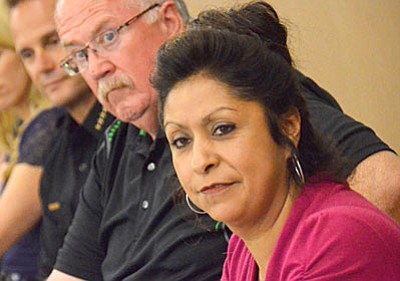 Originally Published: June 25, 2016 2:41 p.m.
COTTONWOOD -- A crowd of more than 100 people gathered at the Cottonwood Recreation Center Wednesday evening to hear about solutions to the homeless situation and panhandling in Cottonwood.
The forum included Cottonwood Police Chief Steve Gesell, Angie Lozano of Angie's House, Darryl Reynolds of Catholic Charities program to transition from homelessness, Kelly Wilson of Old Town Mission and April Razo of Spectrum Healthcare.
Each talked about the role they play in several recent programs that have evolved in Cottonwood. The Safe Shoppers program allows retailers to establish an advanced relationship with police to assist with excluding panhandlers when they are not wanted on their property.
The post-arrest diversion program takes subjects who may have been arrested for minor infractions to get counseling and alcohol and drug assistance instead of simply being jailed.
The panel also unveiled a new -- though not fully-formed -- program that would take donations that people would otherwise give to the homeless on the street and to use the money for programs to benefit the homeless. That program will be called Cottonwood Cares. A website, www.Cottonwoodcares.com is now under development.
Chief Steve Gesell repeated that the homeless issue is a very complex and often a misunderstood problem. The forum is another method to help educate the public.
One of his Gesell's first efforts as police chief was to segregate people "masquerading as homeless" in order to justify panhandling.
Gesell said the community needs to reduce the number of "enabling environments." The police department's efforts with Safe Shopper and responce to complaints has reduced the number of panhandlers in the city. He says he hopes that level can be maintained.
Many members of the audience had questions for the panel. The panel answered and sometimes disputed the questions. One man asked, "How many homeless must die before there is a solution?"
Kelly Wilson of Old Town Mission said she knows of only two men who have ever died, one of cold and one of heat, but none recently. She said that the Mission tracks 174 people who describe themselves as homeless and seek services at the Mission.
Several crowd members asked about affordable-housing. Another suggested that some of the vacant buildings might be opened for the homeless to use. Another suggested that on weekends, the library, the Loft and similar places are closed and homeless have no place to go.
Another offered that the city might open the swimming pool during very hot days.
April Razo said Spectrum might have some space available that could be opened during extreme temperatures.
Another from the audience suggested that churches could help out.
Still another suggested that safe parking areas be established for people to sleep in their cars. Lozano said she already has two such parking spaces at her shelter.
One woman said she believes that some homeless people "have quit looking for help and quit hoping."
Chief Gesell responded to one person who claimed the panhandlers were being arrested. He said there has only been one single arrest, in a case of aggressive panhandling.
Lozano, who operates sober living homes, has also open up a homeless shelter that has been available all day when temperatures exceed 105-degrees.
Several panelists said they wanted to be part of a housing coalition.
As they closed the forum at 8 p.m., each of the forum panelists offered suggestions to the public.
Old Town Mission's Kelly Wilson said it is important to build one-on-one relationships and take time to talk with people.
Gesell said it is important to "communicate, educate and collaborate. It takes a village in every corner of the community." The Chief said homelessness is a very polarizing topic and we need to take the ego of the equation and reduce the enabling environments."
Darryl Reynolds agreed that there "needs to be respect for everyone."
"People don't want to be invisible" added Lozano.
More like this story