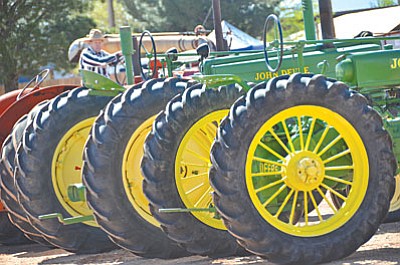 Originally Published: March 1, 2016 11:58 a.m.
AZ Flywheelers return to Fairgrounds March 18-19
Arizona Flywheelers 32nd Annual Engine and Tractor show, Friday, March 18 through Saturday March 19, 2016, 9am-4pm at the Verde Valley Fairgrounds, 800 E Cherry St., Cottonwood.
Tractor pulling, Antique gas engine displays, Garden tractor pulling, Model engine display, Swap meet, Silent auction, Book sale. $5 donation. If you would like to run an article contact Gary Covert 928-639-1453. gcovert3@gmail.com. Pictures available email or CD. AZFlywheeler.com.
Mental Health First Aid Class March 18
The Mental Health Coalition Verde Valley   and Spectrum Healthcare Group are offering a full-day session on Mental Health First Aid training on Friday, March 18, 8AM-5PM at the Center for Positive Living, 45 Castle Rock Rd, #1A in the Village of Oak Creek, The training is free and open to the public. 
According to Barbara Litrell,  Facilitator of the Coalition, "One of the education goals of the Coalition is to bring this training into our Verde Valley communities. In January we hosted a class in Clarkdale. This one is in the Village. Each class is limited to 24 participants and our goal is to have 6 trainings this year. That will give us 144 more community members trained to recognize the signs of addiction and mental illness and to know the 5 step action plan to assess a situation and offer assistance.  We would never walk away from someone having a heart attack or choking. In the case of mental illness we should not walk away from someone experiencing a mental health crisis." 
The National Alliance on Mental Illness reports that approximately 1 in 5 adults in the U.S. experiences mental illness in a given year. But fear and stigma can often blind us to the signs of mental illness and paralyze us just when we could be of help to another person. Mental Health First Aid  teaches members of the public how to respond in a mental health emergency.  
Professional instructors from Spectrum Healthcare Group teach the course, which includes lecture, videos, group activities and reference materials. The course covers first aid for developing mental health problems including depression, anxiety disorders, psychosis, substance use disorders, and eating disorders. The course also teaches about local resources and where to turn for help.  Spectrum Healthcare Group has trained over 600 community members in Mental Health First Aid. 
Continuing education credit may be available to those attending the 8-hour session and everyone receives a certificate of completion. The session begins at 8 am.  Beverages and lunch will be provided with a free-will donation appreciated to cover costs.  Class size is limited to 24.  Please register early by contacting Barbara Litrell 649-0135 or blitrell@aol.com. 
Inaugural Verde Valley Wine Festival planned May 7
CLARKDALE -- The Verde Valley Wine Festival is Northern Arizona's premier Culinary and Wine festival of the year, presented by Four Eight Wineworks and the non-profit art organization, Made in Clarkdale. The event will be held on Saturday, May 7th at the historic Clarkdale Town Park from noon to 4 p.m.
The event will highlight the community of Clarkdale and the Verde Valley at large, with the goal of offering the finest wineries, breweries and restaurants committed to creating homegrown products and authentic experiences for locals and visitors to enjoy from around the world. To jury the integrity of the event, we are excited to announce that all wines featured by any winery at the Verde Valley Wine Festival will be made with only Arizona grapes.
The festival will be held in the heart of Arizona's first planned community Clarkdale, Arizona. Clarkdale is the epitome of American industrialism. While the industry of the town has shifted from copper mining to entertainment, the driving philosophy of hard-work and ingenuity remains intact.
Please join us on May 7th at the historic Clarkdale Park for a great day of wine, beer, spirits, food and art.
Tickets for the Verde Valley Wine Festival are available for purchase at www.verdevalleywinefestival.com .
Applicant sought for Historic Preservation Commission
The City of Cottonwood is seeking volunteers to fill two seats on its Historic Preservation Commission. Both seats are for 3-year terms. It is desirable that applicants have professional experience in the fields of architecture, planning, history, archeology, or construction.
The commission consists of seven members, five of whom shall be residents of the city, and two of whom need not be residents of the city, provided that the City Council finds at the time of their appointment that they have substantial ties within the corporate limits of the city, such as owning real property, owning a business, being employed within the city limits, or based on any other factors deemed relevant by the City Council.
Commission and board volunteer application forms and a copy of the powers and duties of the commission are available at the City of Cottonwood website: www.cottonwoodaz.gov, or from the Human Resources office, 816 N. Main St., or by calling 928-340-2730. Applications will be accepted at the HR office until 3 p.m. March 9.
Mercy Nelson Fundraiser March 5
Ernie's Smoke Shop is holding a healthcare fundraising benefit at the Camp Verde Gym 395 S. Main St. for 15-year employee Mercy Nelson. The event features a raffle with numerous prizes, including $500 cash, 40-inch flat-screen TV, free tow by Arizona Recovery and 2 night stay at the Phoenix Hyatt Regency, to name a few.
Dinner will be served at 5 p.m. and includes enchilada casserole, beans and rice, dessert and drink. Price is adults $10 and children $5. Menudo and tamales available ala carte.
Contact Priscilla Smith, Team Native Spirit at 928-567-2781 for more information.
Paddlers show support for Arizona River at Verde River Runoff
Every year when the snow melts from northern Arizona's Mogollon Rim, it brings greater flows to the tributaries that feed the Verde River. For regional river runners, it is prime season to enjoy the excitement these waterways can offer. The increased river flow is celebrated each year by kayakers, canoers and stand-up boarders at the Verde River Runoff in Camp Verde, Ariz.
On March 19, Prescott National Forest has permitted 200 boaters to participate in this year's Runoff event that will begin at White Bridge near old town Camp Verde, for a 10-mile race to Beasley Flats, or at the Clear Creek access point for the 5-mile race to Beasley.
"People come-out and get on the river because it is fun and they appreciate having the Verde River," said Bob Rothrock, who leads planning for the event for the Verde River Valley Nature Organization.
Anyone interested in boating in this event is encouraged to register online, as long as they have a basic understanding and skill at maneuvering a boat by paddle in water.
The event has been going on for 16 years. Northern Arizona University Parks and Recreation students and faculty created the River Runoff in March of 2000, but was adopted by VRVNO in 2014.
"VRVNO decided to continue the Runoff because - whether some enjoy it for the competition, fun or solitude on the river - they are likely to become advocates for the preservation for the Verde River, which is threatened," Rothrock said.
This year, the Runoff has been moved to an earlier date in March to take advantage of the Spring runoff or snowmelt. With expected flows, it may offer class I - III rapids (weather depending). Class III rapids are rapids that push boaters quickly, but do not require the maneuvering like class IV.
Safety boaters will be stationed along points of the river to assist boaters if there are any issues.
This stretch of the Verde River is adjacent to much farmland and Forest Service lands; home to wildlife that can be seen along the river. Many race participants come just to see nature and have a good time with their friends.
Rothrock is glad to see the event on an earlier date, especially now that that it will be in-conjunction with the Spring Heritage Pecan and Wine Festival in old town Camp Verde from 10am - 7pm. Runoff boaters are encouraged to reconnect after the race at the Camp Verde festival for food and drinks.
Participant cost is $25 for 5-mile, and $50 for the 10-mile. To register for the Verde River Runoff, visit www.VRVNO.org
Gosar at Mingus Mnt. Republican Club
You are invited to the Mingus Mountain Republican Club Meeting Tuesday March 8th at 11am at the Veterans of Foreign Ward, post 74 at 705 East Aspen Street at Veterans Way, Cottonwood, AZ. The speaker U.S. Congressman Paul A. Gosar, Arizona 4thSue to graduation, Sweet Grace will not be participating in the May 2012 Fourth Friday at the Fort. We will resume the Fourth Friday dinner in June.
Coffee Talk with Mayor March 30
What is going on in the City of Cottonwood? Do you have some concerns or ideas about your city? Visit and talk with Mayor Diane Joens who wants to hear your thoughts and ideas about the City of Cottonwood by attending the Mayor's Coffee Talk on March 30th at 9 a.m. at the Cottonwood Recreation Center in the Mingus Mountain Room located at 150 S. 6th Street in Cottonwood.
Her special guest speaker will be the new Police Chief Steve Gesell. With over 25 years of police experience, Chief Gesell brings a wealth of experience and knowledge to our city. He served in the Atascadero, California Police Department as Commander and Acting Chief. He served in San Luis Obispo, California as the Chief of Police and took the lead to educate the public and find solutions for homeless issues. He has a wide variety of police experience to include five years as the commander of SWAT.
He has attained a Bachelor of Science Degree, Justice Studies, Arizona State University and Master of Education, Educational Leadership, Northern Arizona University.
He has graduated from the Northwestern University School of Police Staff and Command.
Chief Gesell began his service to the community on Jan. 20.
For questions or more information, contact Diane Joens at 634-4112 or email djoens@cottonwoodaz.gov.