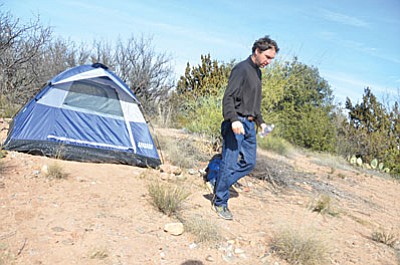 Originally Published: March 26, 2016 1:28 p.m.
One year ago, James Haden, 42, was homeless, living in a tent in Cottonwood and looking for a job. It was winter, and the 20-degree temperatures had done "a little damage" to his body.
Haden said he was one of hundreds of homeless people living in Cottonwood and talked about a day that he would have a warm place to live and a job where he would be respected.
Also in the last year, another homeless man died in cold temperatures while living in some bushes off South Main Street in Cottonwood. In this same year, the local homeless coalition held several meetings and unsuccessfully debated whether to open an overnight shelter in Cottonwood.
But what a difference a year can make.
After "a grand total of 72 days" of living on the streets of Cottonwood, Haden ceased being a homeless statistic and has a full-time job.
His answer turned out to be Spectrum Healthcare, an integrated health-care facility in Cottonwood that offers mental health, primary care, and substance abuse services, including the company's Work Adjustment Training Program.
Last Monday, Haden graduated with four other people from Spectrum's Work Adjustment Training Program receiving certificates, along with training and a new enthusiasm to find employment.
The program teaches clients to get back into the workforce, explained Christopher Watters, Behavioral Health Worker and Vocational Rehabilitation specialist at Spectrum Healthcare. It's not so much about the job as it is helping people fit back into society, he said. Some clients have not worked in some time and some clients have not been successful during their employment, Watters explained.
"My job is to give them the skills to find their own jobs," he said.
Today, Haden has a place to live, has been hired as a full-time employee at Spectrum as a Peer Recovery Specialist. This means Haden now works with homeless people in an effort to help them find the same kind of reversal of fortune he has experienced in the past year. Haden's success and enthusiasm has earned him a role as a Work Adjustment Training Program support trainee.
The training program, which utilizes Spectrum's maintenance crews, coffee shop and a local car wash, gives clients on-the-job skills, explained Watters. "My job is to give them the skills to find their own jobs," Watters added.
Spectrum offers many services, which include some that serve the needs of people in the homeless community, as well as the general population. The Old Town Mission and Catholic Charities and churches in Cottonwood also provide services for homeless and the hungry in Cottonwood.
"If you're living on the verge of homeless, you might as well just count yourself as homeless, all it takes is one little flip up, and you are there defending for yourself in the elements," Haden said, estimating the number of homeless people in the Cottonwood area to be in the hundreds.
Haden praised Spectrum for turning his life around. The agency helped find him a subsidized housing unit because he was a client.
"The temperature is much better when you are trying to sleep at 67 degrees rather than 17, 18, 20. It's easier to take care of yourself. Keep yourself up," Haden said.
Haden said "it's bad" being homeless in this area, and said that an overnight shelter for the homeless in Cottonwood would be nice.
"Try working with Spectrum. Find some way to pull through." Haden recommended. "Hang in there, be honest with people. Keep trying, that's about all you really can do."
More like this story