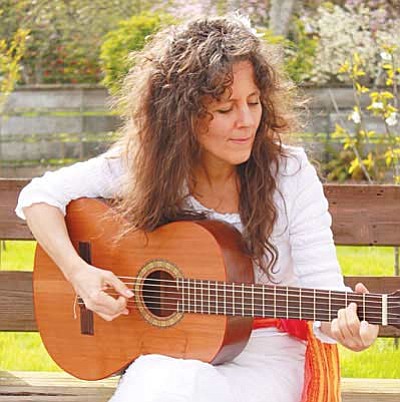 Originally Published: May 10, 2016 12:28 p.m.
Find out what all the hump-day buzz is about at Vino Di Sedona with music by Rick Busbea on Wednesday, May 11, 7-10 p.m. Busbea moved to Sedona in 2014 and is becoming one of the area's favorite entertainers performing rock and country classics and originals.
Busbea has been playing guitar since he joined the Air Force in 1977, and his first performance was in Egypt while serving for the American Embassy in Cairo. Catch Rick Busbea live on the 2nd and 4th Wednesday of every month.
The Sedona Women are holding a Wine-Tasting Fundraiser at Vino Di Sedona on Thursday May 12, 4-7 p.m. The fundraiser is for The Helen Wolfe Scholarship Fund, and entry is $25. Music at the fundraiser will be by Gina Machovina. Gina is best known for her virtuoso guitar playing and smooth, sultry vocals. As a student and performer of classical guitar music for more than 30 years, Gina also played lead guitar and wrote music for her hard rock-band, Rising, in So California.
More recently, Gina has performed solo as a singer/songwriter throughout the Pacific Northwest where she recorded her first CD, Mirrors. She now resides in Sedona and plays extensively throughout Northern Arizona. Beautifully mesmerizing, Machovina's music is a soulful mix of guitar masterpieces with passionate vocal tunes spanning many decades. Gina will be staying at Vino Di Sedona to perform a second set for nighttime entertainment, 7-10 p.m.
Randy J takes the stage at Vino Di Sedona on Friday the 13th, 7-10 PM. Randy is famous for his 50's- and 60's-style surf guitar. Born in Orlando, Florida, Randy J moved to Los Angeles in 1987 and shortly thereafter began composing music for film trailers and TV spots. He returned to Orlando and formed his band the Tarantulas in 1995; now a Sedona resident, Randy performs as a solo artist and with The Tarantulas as the guitarist and lead singer.
Saturday May 14 features two Sedona favorites, Paolo and Alex Ogburn, at Vino Di Sedona. Paolo's jazz classics accompany afternoon wine tasting, 3:30-6 p.m. His favorite song is always the one he is performing at the time, and he really puts himself fully into his music.
Ogburn takes over for night-time entertainment, 7-10 p.m. Ogburn's music career has taken him from Alabama to Florida to Sedona.
In Birmingham Ogburn began playing in pubs and restaurants at the age of 19. The years in Birmingham contribute to Ogburn's fiery and soulful Southern blues. Ogburn's show will include unique interpretations of a wide range of choice covers, and eclectic originals.
Join Jim French and his talented friends for his open jam every Sunday at Vino Di Sedona, 6-9 p.m. Jim always invites top quality musicians; you would never know that they do not regularly perform together. Musicians are welcome to attend and join in, or even play a few songs solo, audience members who want to enjoy the music are welcome too!
Gina Machovina returns to Vino Di Sedona on Monday May 15, 6:30-9 p.m.
Open mic Every Tuesday Night is Sedona's best Open Mic at Vino Di Sedona, 6-10 PM. This Open Mic started one year ago and has grown into an event that brings a full house and variety of musicians every week. Owner Wes Schemmer says "Open Mic allows talented musicians from beginners to professionals to come together, have fun, and support each other." There are a lot of regulars, like Greg Williams, Dave Rice, Rick Busbea, KB Bren, and Randy J, but also new and different musicians weekly. Open Mic is open to musicians of all music styles, and audience members are welcome too.
Vino Di Sedona is located at 2575 W SR 89A. For more information and full entertainment schedule see the website www.VinoDiSedona.com or call 928-554-4682.