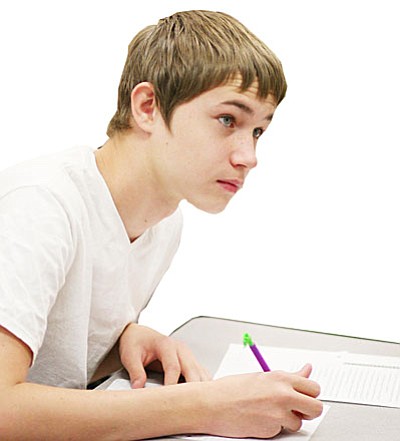 Originally Published: May 12, 2016 1:25 p.m.
RIMROCK - It takes roughly 17 minutes to drive the 10 miles from Rimrock to Camp Verde High School. It takes almost twice as long - 31 minutes - to drive the approximately 23 miles from Rimrock to Mingus Union High School in Cottonwood.
But students at Beaver Creek School, a K-8 public school, are almost split down the middle as they decide where they will continue their secondary education.
In the 2015-2016 school year, 54 of Camp Verde High School's freshman came from Beaver Creek School, whereas 50 former Beaver Creek students went on to Mingus. According to Beaver Creek School District Superintendent Karin Ward, the ratio of students attending high school in the two districts has remained constant since she arrived 12 years ago.
"Maybe 10 kids one way or the other. But it's pretty consistent," Ward says.
Dr. Paul Tighe, superintendent of Mingus Union High School District, says his program provides the "same opportunities" to Beaver Creek students as it does for "our in-district eighth grade students, including registration presentations, shadowing, try-CTE day, future freshmen night, and other activities."
"We certainly hope all will come here, but we also respect their choices," Dr. Tighe says. "As the largest high school in the region, we have more opportunities to offer, though students have more transportation time going to [and] from school."
Since taxpayer dollars fund public schools, Beaver Creek School District in effect pays tuition to both Camp Verde and Mingus Union high schools. Figures paid are estimated based on 100th day of students enrolled, Ward says. That figure, she says, is what the school uses in that year's school budget.
"This saves taxpayers money," Ward says. "And it gives children a chance to choose a high school that best meets their needs."
Not only will most of Beaver Creek's eighth-grade graduates choose Camp Verde or Mingus, Beaver Creek School District also provides transportation to and from high school.
Seeking guidance
From the first week of instruction, Beaver Creek eighth graders become first become schooled in matters of high school, college and the professional world. Margee Cowan, Beaver Creek School District's College and Career Readiness advisor, takes the students on tours of both Camp Verde and Mingus Union high schools during the year.
"That's cool for them to see," Cowan says. "They follow a schedule and go through all of the classes at the high schools."
It is typical for Beaver Creek students to visit both schools within a week of each other, Cowan says, so they can better remember the similarities and differences.
"For example, if the kids are interested in culinary, Mingus doesn't have a culinary program," Cowan says. "But Mingus has a filmmaking program, and they really promote it."
As her students are taking in massive amounts of information, Cowan says she recommends they make a "pro and con" list.
"We talk a lot about the advantages," Cowan says. "It's been fun. They've enjoyed it. I hope their awareness has increased."
Choices, choices
Raymundo Rodriguez learned from his family the value of a contingency plan.
"I want to be a veterinarian," says the 13-year-old eighth grader at Beaver Creek School. "But my backup plan is to be a chef."
Raymundo says he's liked cooking "since I was little." With a culinary program - and despite two siblings who graduated from Mingus, Raymundo has decided to attend Camp Verde High School, as has 14-year-old Sarah Loyd, who also has a backup plan.
Besides culinary, Sarah looks forward to studying digital media and drama. For her, the choice between the two schools was not so much academic as it was a matter of comfort.
"It's a smaller school," Sarah says. "It's closer to my home. And some of my friends are going there."
Though Sarah says she would not be comfortable in a larger school, it's that volume that nudged 14-year-old Kody Sneathen toward Mingus Union High School.
Kody, whose sister is a freshman at Mingus, says he likes several things about the Cottonwood school, such as filmmaking - and welding.
"You get free gloves your first year," Kody says about the welding program. "I know that Camp Verde has automotive too, but I also have other friends who are going to Mingus."