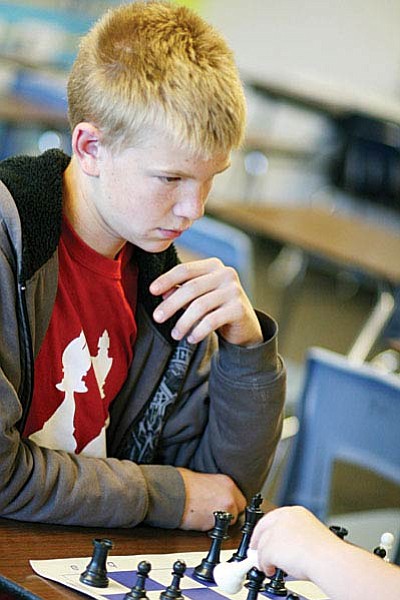 Originally Published: May 19, 2016 4:10 p.m.
COTTONWOOD - Believed to have originated sometime before the 7th Century in India, chess is a recognized sport of the International Olympic Committee.
The Asian Games included chess in its 2006 and 2010 competitions.
The World Chess Federation bestows titles to the most skilled players. To be named grandmaster is as good as it gets.
But until the beginning of the current school year, Cottonwood Middle School had no chess club. Until a young man decided that it just made good sense for his school's lovers of the game to gather - and to play.
Chess is all about strategy, eighth grader Juanio Martinez says.
"What I like about [chess] is that when you play it, you are using your brain to think ahead and strategize what you're going to do next," says Juanio, who first learn to play chess at age 9 when his father Jayson first introduced him to the game.
But it was his neighbor Steve Collins who motivated Juanio to improve his gamesmanship.
"I knew I was getting good because every time we played, I would get closer and closer to beating him," Juanio says. "When I found out I could and was able to beat him, I knew I was a good chess player."
How the chess club began
At the beginning of the 2015-2016 school year, Juanio approached school Principal Matt Schumacher about starting a chess club. Says Steve King, assistant superintendent for the Cottonwood-Oak Creek School District, Juanio "took the lead in creating an opportunity for future generations of CMS students."
"Mr. Schumacher suggested he try to find a teacher to sponsor - supervise the club and then ask for approval from our student council," says Frank Marston, the school's eighth grade teacher. "Juanio came to me, and after a bit of back and forth, we put together the framework for the club."
With the club's structure in place, Marston filed a request for student council to consider the new club. 
"Once the request was approved, we started to get the word out about the new club," Marston says. "In October of last year, we had our first informational meeting - and started playing a couple weeks later."
The club
Each Tuesday afternoon, between six and 12 chess enthusiasts could be found working on their gamesmanship. Students practice their favorite moves - and learn how to anticipate what the competition would do.
Juanio's favorite first move of the game is to set up a barrier around the middle of the chess board with his knights and bishops. Another club member, eighth grader Deion Totten, says he likes to put the majority of his pieces in the middle of the board.
"Because you can control more," he says, "where you go, who you can attack." Deion who also plays memory games to keep his mind sharp, says he enjoys the methodical nature of the game.
Eighth grader Angelica Kline, has been playing chess for a few years now - and enjoys the checkmate part of the game.
The competition
Nearing the end of the school year, the club decided to host a day-long chess competition. Students and staff totaling 24 competed in the single-elimination tournament. And quite a few students, as well as adults came out just to watch.
"It was an exciting afternoon for our first year club," Marston says.
Perhaps it appeared like it was scripted, but Juanio, the young man who started the chess club was the one who finished first in the May 3 tournament.
"I thought I was going to lose, so I tried as hard as I could and I ended up beating him," Juanio says. "[I] was so happy that I won my first chess tournament in my life and all my opponents were grown adults."
Juanio defeated four of the competition's six adults to win the title. Says Marston, the school's first chess tournament "was a huge success and we hope next year will be as well received."
Chess is like life
In many ways, chess is like life. According to Schumacher, the critical thinking involved in chess "that requires a player to plan their moves well in advance, while strategizing to mitigate obstacles presented by the competition is a life skill that all students can benefit from."
Chess helps the player "get out of their own head, see beyond their own agenda, and view the bigger picture," Schumacher says.