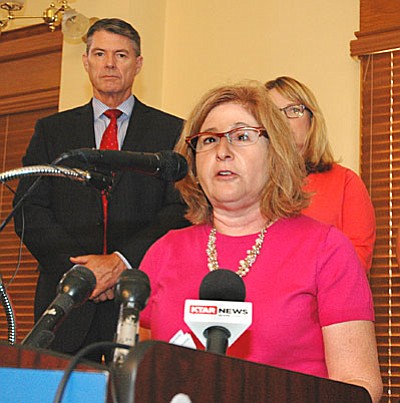 Originally Published: May 24, 2016 2:23 p.m.
PHOENIX -- Calling the money from Proposition 123 a nice start, education advocates are now demanding lawmakers restore the other $1.2 billion they say has been cut from K-12 funding since 2009.
Dick Foreman, president of the Arizona Business and Education Coalition, said during a press conference Monday at the Capitol that the money is there. He said it's time for lawmakers to revisit the hundreds of millions of dollars in tax credits that have been granted, largely to businesses, including a batch of credits enacted in 2011 that Dana Naimark of the Children's Action Alliance said will cut revenues by $700 million by 2019.
"That's money we should be investing in our schools,' Naimark said.
But getting that done could prove difficult, if not impossible.
It takes a two-thirds vote of both the House and Senate -- and concurrence of the governor -- to end existing credits. And Gov. Doug Ducey was elected on a promise to reduce taxes every year of his tenure.
Gubernatorial press aide Daniel Scarpinato reiterated after Monday's event that his boss will oppose any tax hike. But he opened the door a bit for what he called "tax reform.'
"Certainly, part of that discussion would be how do you do it in a way that results in more dollars for education,' Scarpinato said. But he quickly added that while Ducey wants to "improve the tax code,' that also means "people aren't paying more in taxes.'
That still leaves the question of how to find the cash that even Ducey said is needed beyond the approximately $300 million a year that Prop 123 will raise for the next decade.
By contrast, the Children's Action Alliance figures schools lost $371 million a year in funding for textbooks and technology. There's $260 million the state is not providing in funds to maintain building, $218 million when state-funding of full-day kindergarten was repealed and an assortment in cuts in other funding like teacher development and early childhood education.
"We do have money now,' said Joe Thomas, president-elect of the Arizona Education Association.
"We're coming out of the recession,' he continued. "We have unspent revenues, we have unspent rainy day funds.'
That contention has been disputed by Republican legislative leaders who said the fragile state of the economy means the state cannot rely on the current revenue stream. So instead they have used some of those extra dollars to undo the bookkeeping gimmicks that were used to balance the budget in prior years.
Scarpinato said there may be a middle path of sorts.
He said the state now has a "structurally balanced' budget, with revenues exceeding expenses without the need for the gimmicks.
Scarpinato also noted Proposition 123 finally settles the lawsuit filed in 2010 by schools after lawmakers ignored a voter-mandated requirement to boost aid to schools every year to match inflation. A trial judge already had ordered the state to immediately boost aid by more than $330 million; the settlement was reached before she could address the more than $1 billion the state had failed to pay in prior years.
And that settlement, Scarpinato said, is coming largely out of state land trust proceeds and not the general fund. All that, he said, puts the state on good financial footing heading forward.
"Which means that we actually are in a position where we can have these discussions because we've got money in the bank,' Scarpinato said.
Patience -- and trust -- may be in short supply.
Beth Simek, president-elect of the Arizona PTA, said the closeness of the vote shows a large number of people are concerned that lawmakers will not follow through with the promise that Proposition 123 was billed as only a first step.
"Based on track records, to be honest with you, I can't blame them,' she said. What that means, Simek said, is keeping pressure on lawmakers -- and getting involved and electing representatives and senators who are committed to improving K-12 funding.
Simek said that's going to take more than the 32 percent turnout in last week's elections.
"The legislators have been counting on our apathy,' she said.
"Well, the August primaries are right around the corner, and November isn't that far behind,' Simek continued. She said voters need to ask candidates more than the generic question of will they support public education but instead be pressured into spelling out exactly what they will do.
But don't look to Simek's organization to suggest to people how they vote.
She pointed out the PTA is formed as a nonprofit organization which cannot get involved in politics.
On Twitter: @azcapmedia
PHOENIX -- Just as one lawsuit on education funding is being settled, state lawmakers face a new one, this one over what challengers say is their failure to build and maintain public schools.
Attorney Tim Hogan of the Arizona Center for Law in the Public Interest said the legislature is effectively ignoring a 1994 ruling by the state Supreme Court that declared it is illegal to have taxpayers in each school district solely responsible for school construction.
Lawmakers, after several failed attempts, finally approved a plan that was supposed to have the state pick up the responsibility. But Hogan said the legislature has not provided adequate funding in years.
The result, he said, has been to throw the burden back on local districts whose voters have to borrow money for what should be a state responsibility, precisely the situation the Supreme Court found unconstitutional in 1994.
Hogan is now working with local school districts who have been denied the money they need for new schools -- money the state was supposed to provide -- to ask Arizona judges to force lawmakers to properly fund the system.
There was no immediate response from Gov. Doug Ducey.
Under the system in place before 1994, school districts borrowed money for new construction and repairs through local property tax.
That year the high court said it created disparities between rich districts that could afford domed stadiums and poor ones with plumbing that did not work. The court, however, refused to impose its own solution.
In 1996, the legislature agreed to put $100 million into a special fund that could be tapped by poor districts for construction needs. It also agreed to provide another $30 million a year for nine more years.
The Supreme Court found that plan flawed, too, saying it did not meet the constitutional requirement for a "general and uniform' school system.
A 1997 alteration provided more cash. But here, too, the justices said that was not enough.
"Districts ... would still need to issue general obligation bonds in order to fund major capital projects, bonds that are backed by property values within a district,' Justice Frederick Martone wrote.
The net effect, he said, was that some districts had to impose large tax hikes to meet basic needs while others, relying on the district's wealth, could get the same net cash with a smaller tax increase.
Lawmakers eventually approved the School Facilities Board which was supposed to pick up every district's construction needs.
But the never came up with a new source of revenue to fund the potential $300 million annual price tag, instead absorbing the cost into the general fund. That, however, worked only when the economy was good and revenues were increasing.
Hogan said that account has not been fully funded for nearly a decade. And it was replaced three years ago with a new system where school districts could seek -- but not be guaranteed -- grant funds.
The result, he said, is that local districts that need schools but can't wait for a state grant are once again having to turn to their voters for bond approval. And that brings the funding system back to what the Supreme Court previously found illegal.
"In some ways, we're worse off than before,' Hogan said. At least the 1996 plan had $100 million set aside.
But Hogan said that does not mean a new lawsuit will be a slam-dunk.
One thing that could work against challengers is the recent approval of Proposition 123.
Voters were promised those dollars would go directly in the classroom, mostly for things like teacher pay and smaller class sizes.
But here's the thing: The deal agreed to between the state and the districts that filed the original 2010 lawsuit puts no strings on that approximately $300 million a year, a figure that comes out to about $300 per student.
"They can use it for anything the want,' Hogan said. And that, he said, could allow the state to argue that schools have plenty of money for new schools and needed repairs if they just use their Prop 123 dollars for those purposes.
"We need to be able to rebut that and say, 'No, this money's spoken for on the operational side and here's how it's going to be spent,' ' he said, with the capital needs still underfunded.
Hogan said he has no timeline for when the new lawsuit will be filed.
-- By HOWARD FISCHER, Capitol Media Services