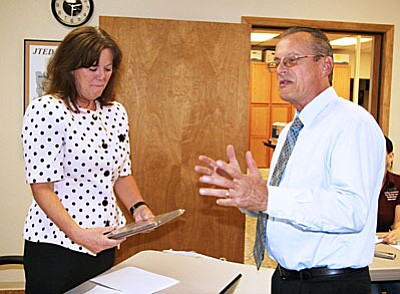 Originally Published: May 26, 2016 11:47 p.m.
COTTONWOOD - Lisa Aragon is many things. She isn't just the new superintendent at the Valley Academy Career and Technology Education (VACTE) in Cottonwood.
She's "honest to a fault - and I'm transparent to a fault," Aragon says, with an air of both confidence and humility about her.
Aragon is originally from Wyoming, grew up in a town of about 600 people before moving to a bigger city - of about 10,000 people. Since leaving her home state, Aragon has been in Arizona, first in Yuma, then Holbrook before coming to the Verde Valley.
Aragon is also a mother, with two daughters in Virginia and a son in California. From day one, Aragon has "felt at home" in the Verde Valley.
She knows the name of the young woman whom she buys a soda from each morning. And places to eat, well, the new VACTE superintendent has her favorites already, and it's barely been two months since she arrived.
Now ask Aragon about Doris - and her eyes light up as she tell how she found her 3-year-old black Labrador and Border Collie mix.
Doris was at a halfway house for dogs, Aragon recalls. "It took them 18 months to be able to touch her. She was so afraid of humans. But we bonded pretty quickly."
Though Aragon says that Doris is the "most ridiculous name for a dog, she is a Doris. It was her name when I got her, and I just kept it."
Doris is also Aragon's hiking companion. Doris may not be the one with the map, but she makes sure that Aragon is getting her exercise - and enjoying the beauty of the Verde Valley.
"And I bought my annual pass," Aragon says.
Aragon also likes to run races from time to time, says she is planning a half-marathon in February at Disneyworld with her daughters.
When she arrived in the Verde Valley back in April, one of the first things the new VACTE superintendent did was join her local gym. Making friends, bonding with people, those are parts of Aragon that are not only present in how she lives her life, but also in how she does her work.
"The first thing I have to do here is build trust," Aragon says. "And allow the community to get to know me."
Aragon says that there is "a lot of opportunity" in the Verde Valley - and at Valley Academy Career and Technology Education. "A lot of opportunity to do great things for the kids."
Aragon says she believes that for the career and technology education center to really meet the needs of its various partners, it must offer both satellite and centralized campuses for its students.
"We need to find out what this community needs by the way of skilled workers?" Aragon says. "And what can we provide?"
Aragon admits that the career and technology education industry cannot always provide everything that is needed. "But we want to know what's needed," she says.
An "invaluable" way to meet those needs, Aragon says, is through partnerships.
"Without the school districts, we wouldn't exist," Aragon says. "They have the capability of providing the programs - and they have the students."
Partnerships Aragon has identified in the Verde Valley are the high schools, Yavapai College, and local businesses and industry. Aragon says that centralized learning facilities "are driven by business and industry."
"Anybody who can bring expertise and knowledge to the table," Aragon says. "We want to talk to them."
-- Follow Bill Helm on Twitter @BillHelm42 and on Facebook at @CampVerdeBugle
COTTONWOOD - Since becoming interim superintendent at Valley Academy Career and Technology Education (VACTE) on April 1, Lisa Aragon has not only sought transparency within the community, but she has begun to build relationships and strengthen partnerships in the career and technical education sector.
Feedback from VACTE staff and its governing board has been positive, she says. Aragon also says that input from those partners, especially the school districts the organization serves has also been supportive.
On July 1, Aragon will no longer be an interim superintendent. And for that, she says she is excited.
Aragon isn't leaving the Verde Valley. Nor is she leaving the job that brought her here from Holbrook. She's just shedding that temporary title.
Wednesday, the governing board of the career and technical education program voted not only to make Aragon superintendent, but the two sides also agreed on a $93,000 one-year contract that includes performance reviews.
Aragon can now look for a home, something she says she has been "too busy to do" since becoming part of VACTE. Though Dr. Paul Tighe will soon be leaving his home in the Verde Valley, the Mingus Union High School superintendent says he is pleased with Aragon becoming the permanent superintendent at the career and technical education center.
"I commend the VACTE board for moving quickly with its search and for choosing a great candidate," says Dr. Tighe, who on July 1 will become superintendent at Saddle Mountain Unified School District, west of Phoenix. "Mingus has a strong relationships with VACTE and there is considerable collaboration, especially given that Mingus has the largest collection of CTE programs under the VACTE Joint Technical Education District umbrella. We look forward to exploring options to maximize the benefits to students and enhance the offerings at Mingus as well as the entire Verde Valley."
Before coming to the Valley Academy Career and Technology Education, Aragon spent 13 years with Northern Arizona Vocational Institute of Technology, a Joint Technical Education District in Snowflake, the last eight years as assistant superintendent.
Because of her background in the career and technical education field, Dr. Tighe says it is "healthy to have an outside perspective to look at existing programs objectively and to bring new ideas to the table." And VACTE board member Leland Wieweck agrees.
"She comes with experience, working with other JTEDs, colleges, administrators," Wieweck says. "A different perspective, a different look at things."
Dr. Tighe was one of five members of a special search committee used by Valley Academy Career and Technology Education to select a permanent superintendent to replace Lois Lamer, who retired earlier this year. The committee, says VACTE board member Charlene Day, "did all the work and came up with the best possible person" to become superintendent
"After looking at everything they presented, I came up with the same choice," Day says. "It was best to have somebody fresh, from outside the [Verde] Valley. We needed some new blood."
-- By BILL HELM, Staff Reporter
More like this story