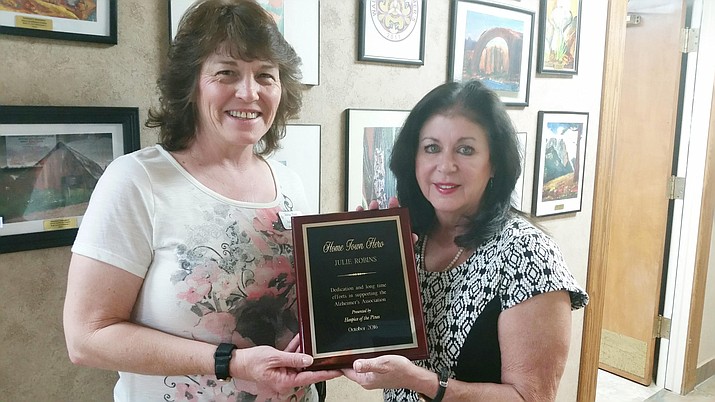 Originally Published: November 5, 2016 1:31 p.m.
This month's Hometown Hero award goes to Julie Robins, Activity Director at Sedona Winds Independent Retirement Community, for her dedication and longtime efforts in supporting the Alzheimer's Association in trying to bring awareness to the more than 5 million Americans that are living with Alzheimer's.

Julie would like not just our community but everyone to be aware that one out three seniors dies with Alzheimer's or another Dementia. In addition, Julie would like to bring awareness that Alzheimer's Disease is the sixth leading cause of death in the United States. It was interesting that on the day of this interview Julie brought to my attention that today was "World Alzheimer's Day," Sept. 21, and that it was a celebration for the Alzheimer's Association.
Julie is originally from Salt Lake City Utah and has lived in the Verde Valley since 1990. This lovely lady is married and she has two sons. Her oldest son, Wayne, is now a retired Marine and her other son, Derek, is in the heating and air conditioning business. Julie loves to spend her free time reading and spending time with her husband and sons.

Julie is Sedona Winds Retirement Community longest employed employee, she has been at the community for over 25 years. This much celebrated advocates current role is serving as their Activities Director.

Prior to becoming the Activities Director her role was the Dining Room Manager. I asked her if she has seen a lot of changes in the Verde Valley over the years and her response was "oh yes!", "I recall when Weber's Market changed locations, it use to be where Sedona Diggs is now, when the roundabout's were put in, and the new elementary and high school were built."
Julie has participated and supported the Alzheimer's Memory Walk and other fundraiser events since 1997. Both Sedona Winds Independent Living and Assisted Living have held other fundraisers for the Alzheimer's Association such as garage sales, yard sales, car washes, flowers, and footprints; they have hosted 3 "Forget Me Not" dinner/auction fundraiser.

Just about a month ago Sedona Winds Independent had a "Forget Me Not" dinner/auction fundraiser with a fashion show. Several of the models for this event were from other local healthcare agencies who were very proud to help support this well attended event.

Among the models were: Julie Keeney, Suzi Jacobson and Jennifer Miller with Hospice of the Pines, Penelope Cook with Verde View Senior Apartments, Wendy Razo with Kachina Point Rehab, Bonnie Shimko with Arizona Care Management Solutions, Jammi McKinley and Taylor Mahlman from Sedona Winds Assisted Living, Meghan Yu, from Caring Haven Care Home and lastly, Laura Ludvick with Granite Mountain Home Care. Together with Sedona Winds these lovely people helped to raise over $6,000 for the Alzheimer's Association!
The Alzheimer's Association is very personal to Julie, as she spends some of her time at work working in a community with residents and their spouse's where some suffer from this disease. Personally, she has experienced her step grandfather and uncle who both struggled with Alzheimer's this was a heartache experience for all.

My last question for this amazing person was "what do you want people to know most about you." Julie's answer was quite simple and candid, "I want people to know that I am a very caring person and that is why I have worked as long as I have at Sedona Winds. These seniors are my family".

It is very obvious that this very unique and delightful lady is a strong advocate for our seniors, and that she full heartily cares about their well being and care.