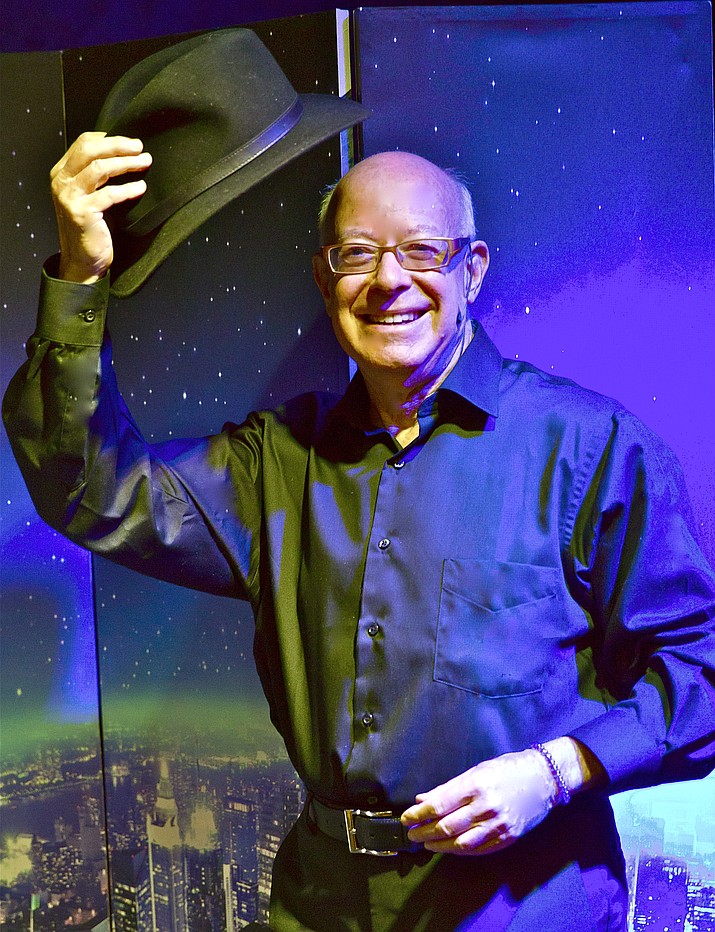 ---
---
See "Growing Up Larry – My Liberation from The Lies," a one-man musical show of Rosenberg's wild life; Friday, Nov. 18, 7 p.m., Ticket, $20; reserve online or at door.
Enjoy a Gourmet Vegan Dinner before the "Growing Up Larry" show; Friday, November 18, 6:00 p.m. Ticket, $35; reserve the dinner online by Thursday, November 16.
Create your own show, "The Yourself Show – Sharing Your Life's Turning Points," Rosenberg's one-day workshop that helps you to write for sharing your life's highlight stories plus creative elements; Saturday, November 19, 10 a.m. to 6 p.m. reserve online or at door.
All three events happen at the Sedona Vortex Center, in Sedona/Village of Oak Creek, a new and intimate event space founded by Joya Comeaux.
SHOW (Performance Only): "Growing Up Larry – My Liberation from The Lies." Created by and starring Rosenberg, this one-man musical show is lively, risqué and inspiring – with gritty stories and popular songs – from his life's seven-decade ride. The show chronicles his coming out of four closets – gender, occupation, nationality and religion/spirituality – to discover how to live an authentic and fulfilling life. The performance is followed by a Q&A with Rosenberg.
DINNER + SHOW: Put yourself in a delicious state by enjoying a Gourmet Vegan Dinner before the "Growing Up Larry" show. Prepared by "Chef" Joya Comeaux, the meal features: Soup (Goddess Love) – cauliflower, zucchini, cilantro, kale, green beans, cabbage, bean sprouts, sweet potato, fresh ginger, turmeric, garlic, onion and spices. Salad – fresh spinach, homemade strawberry balsamic vinegar, avocado oil, soy bacon bits and sunflower seeds. Beverage – water, infused water, hot tea, cold tea or coffee. Dessert – vegan cookie or white chocolate truffle.
WORKSHOP: "The Yourself Show – Sharing Your Life's Turning Points." Want to dramatize your life's stories and lessons – to share with your family and friends, or the public via a book, video or script for the stage?
In this experiential workshop, Rosenberg guides and supports participants to describe stories of their life's turning points, develop vivid stories plus creative elements (songs, dances, photos, poems, artworks, etc.) for key turning points, and gain greater understanding and enable deeper healing of past negative memories.
Rosenberg is CEO of The Larry Show (www.TheLarryShow.com), based in Sedona. Two years ago, at 71, he created it to share "inspirational entertainment" shows, creative workshops, motivational speaking, and life coaching. Since the show's launch, he has been called "cheer-maker," "minister of the heart," "poster boy of it's never too late to revitalize your life," and "radiant source of never-ending joy."
In his former 45-year career, Rosenberg was a marketing professor at New York University and University of Massachusetts at Amherst, management trainer at University of Maryland (based in Tokyo for a decade), corporate communications executive, and visionary business consultant and coach. He earned a Ph.D. in Marketing at Ohio State University.
To make reservations for the Show, Dinner + Show and One-day Workshop, contact www.sedonavortexcenter.eventbrite.com. For questions about the Show and Workshop, call Rosenberg at 928-202-0010.
Sedona Vortex Center occupies The Circle Building, Suite E200, at The Collective Sedona (second level, above the grass courtyard), 7000 Highway 179, Sedona/Village of Oak Creek.