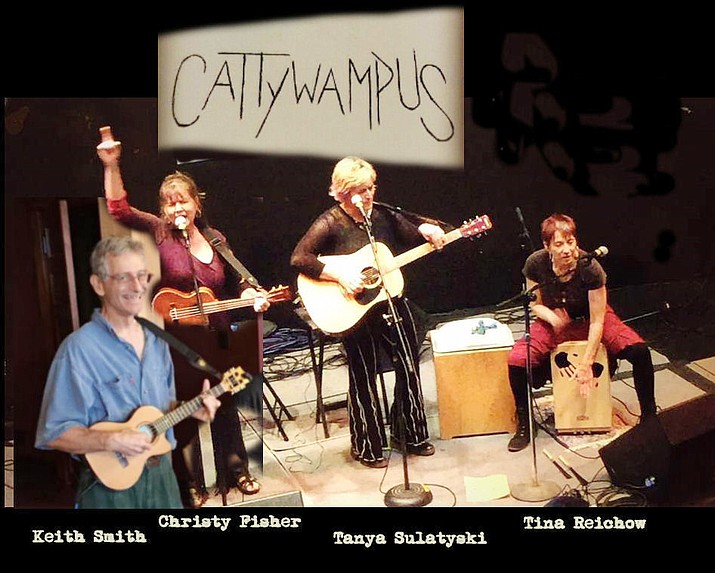 ---
---
SEDONA – Vino Di Sedona welcomes Cattywampus on Wednesday, Nov. 16 from 7-10 p.m. Cattywampus is the innovative musical collaboration consisting of Christy Fisher (keyboard/ukulele/vocals), Tina Reichow (percussion/melodica/vocals), Tanya Sulatyski (sound effects/guitar/vocals), and Keith Smith (lead ukulele). Christy, Tina, and Keith all met as members of the Jerome Ukulele Orchestra and still perform with the JUO. (Tina and Christy are also members of the rock band Mountain Stranded Time.) Tanya is a visual artist in the Sedona area. Known for their "twisted covers and originals", the music ranges from Aretha Franklin to Led Zeppelin and all points in between, guaranteeing a great night of fun - so bring your dancing shoes! For more information visit www.ChristyFisher.com
Thursday, Nov. 17 brings the music of Tim Young back to Vino Di Sedona from 7-10 p.m. Tim had a thirty-year music career in New York City where he performed hundreds of shows and released three CDs. Now living in Sedona, he was raised in the heyday of AM top forty radio and the Folk music boom, his inspirations are everyone from Bob Dylan, Joan Baez and Arlo Guthrie to The Beatles, Sex Pistols, Ramones, Cars and Nirvana. Instrumentally, Tim is a stand out rhythm guitarist, both acoustic and electric. He has composed music and songs for TV and several independent films. Tim's lyrics are inspired by personal relationships, politics, the bar scene, and the music business.
International singer-songwriter Darius Lux performs music live at Vino Di Sedona Friday Nov. 18 from 7-10 p.m. Darius is an award-winning artist who specializes in classic, uplifting pop with soulful vocals. Lux plays classic covers from Van Morrison to John Mayer, and his original songs connect with the heart through inspiring themes that range from empowerment to romance.
His smooth voice and looped guitar stylings create an earthy blend of popular music, rock and reggae that you can relax or dance to.
Darius' life has been one of expansive adventures. Originally hailing from London, he's been creating music almost as soon as he could talk. His influences range from Sting, Otis Redding, U2 to OneRepublic, Jack Johnson and Jason Mraz.
Darius went to school in New York City, after which he worked for Sony/Warner Chappell writing songs for artists such as Daryl Hall and Jennifer Lopez. After living in New York, Darius travelled the world for a year, embarking on a life-changing pilgrimage that led to a move to Hawai'i, where he recorded his debut album, "Arise."
Next moving to Los Angeles, Darius put together a band, released several more albums, "Time is Now" and "We The Living," and music videos. All three of his albums feature songs that have been in film (The Butterfly Effect 3, Puncture Wounds) and TV (NBC, MTV, VH1, History & Discovery channels, Style Network and Oxygen Network).
Darius felt that his music resonated so much with Sedona that he packed up his house in LA and moved here, and now he is diving deep into the local nightlife.
Come enjoy this free performance at Sedona's most popular wine bar, Vino Di Sedona. Darius' soaring vocals and uplifting music is sure to entertain. For more information visit dariuslux.com.
Every Saturday brings two sets of music to Vino Di Sedona. Afternoon Wine-Tasting on Nov. 19 is accompanied by Jazz Musician Steve Sandner, 3:30-6:00 p.m. Steve has had a lifelong interest in the blues since sitting in with the James Montgomery Blues Band in Ann Arbor in the 60s, and he also played with the J. Geils Blues Band in Boston before their rise to pop fame. Steve lived and played for years in Chicago, often in the south side blues and jazz clubs.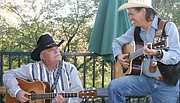 Stay for night-time entertainment by The Rice Brothers from 7-10 p.m. The Rice Brothers hail from the east coast of the United States. They both traveled two totally different roads only to wind up together here in Arizona.
Dave the eldest of the two began playing at an early age with his dad Holman in Connecticut. Dan developed his love for music while listening to his dad and his brother play at their home.
The brother's repertoire is extensive spanning many decades of many genres of music. Dave has played across the U.S. from Maine to Hawaii. Dan has played all over the U.S. and spent numerous years performing in Europe on an international songwriters tour as well. Their style is the most unique in the area. They'll bring you back in time while playing something as old as the Mills Brothers from the 1930s and then bring you back to the future and play something that has been recorded recently.

Dan Rice currently hosts Vino Di Sedona's Open Mic Night every Tuesday night. Don't be surprised if you hear an original song or two as Dan has written many compositions himself. Anytime these two play, they are true crowd pleasers.
Sunday-Funday brings music by Rick Busbea. Rick has made a name for himself in the Sedona music scene performing rock and country classics and originals since relocating here in Sept of 2014. Busbea has been playing guitar since he joined the Air Force in 1977, and still has his original guitar, a Yamaha FG340 concert size acoustic. His first performance was in Egypt while serving for the American Embassy in Cairo. Rick performs Nov. 20 form 6:30-9:00 p.m., and will be back Nov. 23 from 7-10 p.m.
Mike Wade (aka Doug Johnson of the Doug Johnson Band) is the featured musician for Music Monday at Vino Di Sedona on Nov. 21 from 6:30-9:00 p.m. Mike is a singer-songwriter and guitarist, originally from Florida's Gulf coast. His musical styles include blues, rock and soul, which he has incorporated into a solo acoustic performance. Along with his original music, Mike shares his interpretation of current and past musical favorites. He also performs with the Doug Johnson Band. Sedona's best Open Mic night, hosted by Dan Rice is every Tuesday from 6-10 p.m., at Vino Di Sedona. Each musician is allotted an amount of time, or number of songs, and every week brings a variety of new talent along with regulars like KB Bren, Randy J, Valerie Romanoff, D.L. Harrison, Vickie Moyer and Dave Rice who frequently play at Open Mic.
Vino Di Sedona Fine Wine and Craft Beer, is a Wine and Beer Bar and Wine Shop with nightly entertainment.
Located at 2575 W SR 89A in West Sedona. For more information or to see the full calendar of events, visit www.VinoDiSedona.com. 928-554-4682