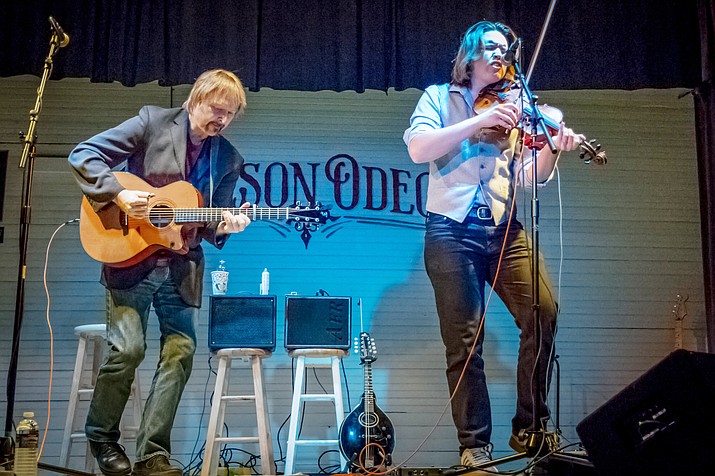 ---
---
COTTONWOOD –
Tim and Myles Thompson, a father and son duo from Nashville, comes to Cottonwood Saturday, Nov. 19 at 7 p.m. in a special live concert at Old Town Center for the Arts.
The unique relationship of a father and son cannot be argued nor explained, but when the relationship includes musical passion, virtuosity and showmanship – magic happens. Tim and Myles Thompson from Nashville, TN, have had a busy year. Extensive touring throughout the American South, and West, and the release of their fourth CD TIME4ME2GO shines the live-action spotlight on heartfelt, original acoustic music from this talented father and son duo.
Tim and Myles Thompson have been inspiring audiences throughout the country. With recent performances that include the Montreal Jazz Festival, Walnut Valley Festival, Sisters Folk Festival, Pagosa Folk 'N Bluegrass Festival, and the Chet Atkins Festival, they have polished their craft to a fine luster. The duo has opened for Spyro Gyra, Don Williams, Mountain Heart, Richard Elliot, and have been doing many 2016 tour dates with Wynonna and the Big Noise.
Tim is a Nashville based session player, singer/songwriter and the 2008 International Fingerstyle Champion. Music has always filled the Thompson home; unknowingly it inspired Myles to pick up the violin at the tender age of five. By the age of twelve he was studying music theory and improvising with skill beyond his years – it was clear that music would be his life. Today at the ripe old age of twenty-one Myles is also a prolific singer/songwriter and mandolin player.
Tim Thompson has appeared with such artists as Tommy Emmanuel, Crystal Gayle, and Hwy 101. He has recorded eleven CDs and two DVDs. He has been featured in the following magazines, Taylor Guitar's Wood and Steel, Just Jazz Guitar and Fingerstyle Guitar which said, "Tim Thompson is a Nashville based finger-stylist that burns!" The Thompson's most recent recording 21st Century Man has a strong focus on original singer/songwriter material that uniquely and skillfully intertwines virtuoso playing. When this material was recently performed at the 2014 Walnut Valley Festival it met with rave reviews.
No one music genre totally encompasses the Thompson's repertoire. Is it acoustic rock, pop, country, Celtic, jazz, funk? The simple answer is yes to all of the above. To experience a Thompson performance is to remember the experience. Don't miss this unique opportunity at the Old Town Center for the Arts.
Old Town Center for the Arts Is located at Fifth Street and Main Street in Old Town Cottonwood. Tickets for Tim and Myles Thompson are $20 in advance, $18 at the door, and $25 for priority seating in the first three rows. Tickets are available online at showtix4u.com. Tickets are also available in Cottonwood at: Desert Dancer, and Mt Hope Foods and in Sedona at Local Juicery.  For upcoming events, visit www.oldtowncenter.org.
For further information, contact Elena Bullard at 928-634-0940.
If You Go ...
• What: Tim and Myles Thompson in concert
• When: Saturday, Nov. 17 at 7 p.m.
• Where: Old Town Center for the Arts, Fifth Street and Main Street, Cottonwood
• How Much: $20 advance, $18 door, $25 priority
• More Info: 928-634-0940 www.oldtowncenter.org