Mingus girls soccer to test waters in first scrimmage; looks forward to winning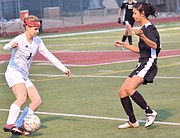 Mingus Union girls' soccer coach Andrea Strobel is excited at the prospect of scrimmaging Peoria High School this week. Strobel wants an assessment of where her team stands, and she can only find out from the heat of competition.
Coach Strobel is building for the big Desert Cup Tournament in Phoenix at the end of the month.
"Our first scrimmage," said Coach Strobel, "is a great practice game, so we can see where we are at. I'm really excited ... because it will give us a chance to put it all together and see where we are at."
In her second year, Strobel looks to turn her record (6-8, 4-5 league) into a winning season. She sees this as an opportunity to build upon the techniques and lessons she taught last year. Coach Stroble believes that her team chemistry of playing together in the summer will help them gel together. She will go with a combination of freshmen and sophomores in the net.
"It is so early to give you any information until we see competition," Strobel said.
Strobel has coached boys in club and ASO soccer, which is competition at the highest level.
She feels like her returning players should be better defensively, and that will be a strength to the team.
There will be new faces on the team this year, with a lot of freshmen and sophomores making the team.
Coach Strobel looks not only to build the team now, but for the future with so many young players.

Look for the Marauders to be in the hunt for a playoff berth this season with another year in coach Strobel's system.
More like this story
SUBMIT FEEDBACK
Click Below to: