Mingus Union boys soccer plans fast-faced offensive attack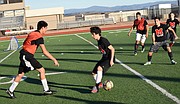 Mingus Union boys' soccer coach Calvin Behlow coaches the game with a passion. If his nature was one scene like a movie, it would be Tin Cup in which Kevin Costner is trying to knock a hole in one from the last hole on the 18th tee.
As his players are practicing and going faster than what he would like, Coach Behlow will stop them and correct the way they are to score the goal. Behlow wants to pressure his opponents and force the action.
He would rather lose a game 10-9, being aggressive and going for it, than win 1-0 trying to protect a small lead and playing defensively. His go-for-broke style is like hot gravy over mashed potatoes. He wants his team to go for it ,consistently.
Coach Behlow is starting his fourth year as the head man. He is not used to going .500. His team was (6-6, 5-4 league) on the season. He credits his team speed and the school's new turf, and thinks those adjustments will be a few of the key moves that make a difference with his players this season.
Another factor will be that his players will know what to expect from him. This will be the first year in which the players will know his system and the type of speed in which he likes to play the game.
On offense, look for him to run a 4-4-2 with a diamond back, and occasionally a 4-5-1. He thinks communication is paramount and doesn't like to give up the middle. This year's team must replace the defense and scoring of Luiz Hernandez, who Behlow said was one of the all-time great players to play at MUHS. He looks to his son Ezekiel Behlow to take charge in scoring, after scoring nine goals last season.
"I think the kids like having fun playing that way," says coach Behlow. "The games not fun if we (kids) are packed tight having to worry about protecting a 1-0 lead. It is always better to win. That was our big problem last year, and we didn't get the run support, and we still lost games."
The schedule is a daunting one; the Marauders' will play teams they haven't had to play in four years. Teams like Bradshaw Mountain, Flagstaff, Coconino, Mohave, Prescott, and Lee Williams in the conference schedule.
One of the disadvantages of playing soccer at Mingus Union is like in a divorce, the boy's team and the girl's team each gets half the field, and only have access to the full field on the holidays, which makes it harder to practice for games and to assimilate how to attack the field from the sides and implement a strategy by using half the field.
"My expectation is for the kids to want to come back next year," Coach Behlow said. "This year I had to cut some players, and I never had to do that before."
In the goal, the Marauders will look for Andrew Kulis to make stops.
"He is one of the top keepers in the game," coach Behlow said. "In fact, he is a Division I keeper."
The Marauders will go 13-15 deep, and Behlow has moved up three freshmen, (Chance Densmore, Angel De La Cruze, and Noah Daher) who could see some action depending on circumstance. The freshmen will play junior varsity and dress for varsity. Coach Behlow believes in their talent and wants to continue to push them to get better by playing against better competition.

"I didn't want them to get lazy," coach Behlow said, "so by bringing them up they will get better touches."
Coach Behlow's main concern this season is the competition, and how his team will fare against soccer teams like Coronado.
"We have to make sure the games we are supposed to win. We win," coach Behlow said. "And the couple that is a toss-up we have a chance to win."

This season coach Behlow is looking for the Marauders to make noise at state and win a game. In his second year, the team made it to the quarterfinals at state, and made it to the state in this first season. In order to get back to that level coach Behlow will look to Dylan Fingers and Devyn Spitzke, and his son Ezekiel Behlow to lead the way.
More like this story
SUBMIT FEEDBACK
Click Below to: