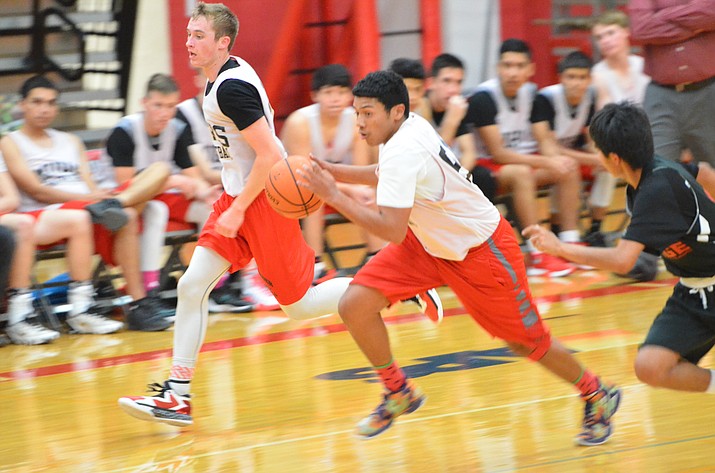 Originally Published: November 19, 2016 3:43 p.m.
Nothing phases Mingus Union head basketball coach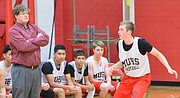 David Beery. As he watched his team scrimmage against a very athletic Page team, one of his players was having trouble matching up with one of their guards.
The Mingus player continued to let his man get inside to the rim. With a Page player shooting a free-throw, Coach Beery said loud enough for all to hear: "Hey, if you let this player get inside again. I'm going to take you out, and you'll be sitting over here by me."
The player looked frustrated, rolled his eyes and then proceeded to make stops inside, stripping the ball a couple of times and leading a couple of fast breaks.
Meanwhile Beery continued to stand with his arms folded, unmoved while watching the action.
Such is life for a coach who must replace a lot of talent in what could be a rebuilding year after winning the Section with an 11-2 mark, and going 22-8 overall last season.
"Our goal is to make it to the state," Coach Beery said, "that's our goal every year.
Beery starts his third season on the MUHS sideline.
What Beery must do is find leadership, experience, and scoring from a group that has not had the opportunity to show what it can do yet. With two returning players who saw action last year, playing time and positions are up for grabs. Coach Beery hopes to find some talent to go with Issac Escalante, who is the leading returning scorer with an average of 11.1 points per game, and Miles Tapija, who scored 8.3 points per game.
"We are definitely going to be playing some youth," Coach Beery said. "And even the guys who older don't have a lot of experience at the top level. So, we need some guys who don't have a lot of varsity experience to step up and show what they are capable of."
Look for Coach Beery to pick up where he left off in the second half of last season, by pushing the ball up the floor. He feels like he has a lot of guys that can fill it up from outside and players who can get to the hole and draw fouls.
Once again, size will not be on the Marauders side. They will be undersized. On the defensive end look for the Marauders to mix it up depending on game situation and who they are playing. Beery likes to go man-to-man, yet had success last season going to zone out of necessity.
This season the Marauders will not sneak up on anyone, especially after the success of last season. Coach Beery, customarily cool, will be challenged this season with his young team.
The Marauders open their season on the road on Nov. 22, at Dysart beginning at 7 p.m.
Coach's Corner/ David Beery
Well … our first unit was very good. Our starters had a 25-point first quarter against Page and a 28-point final quarter against Casteel. However, our bench and especially our Junior Varsity guys struggled.
Our two greatest strength last season, were our shooting and our depth. We shot 49% last night and 41% from behind the arc. However, our lack of varsity experience showed after we went to the bench.

Realistically, I probably won't play more than 8 or 9 guys in most meaningful situations in games. We have some opportunities for younger players to fill those last few spots, but last night no one helped themselves to solidify that role. Even though we struggled with pressure in the 2nd quarter; we were mostly playing our JV guys against Page varsity minus their top few guys … we will get that figured out.

My other main concern from last night was at the defensive end… we failed to defend efficiently in man-to-man. Our kids didn't adjust to a tightly called game, they didn't cut off penetration, and were slow in rotations on defense. If we foul a lot, that plays right into my other main concern-our depth. We cannot afford to have foul trouble, especially more than one guy.
I tried to schedule teams with different styles for our scrimmage. Page's guys always play very hard and play a faster-paced game. They are very aggressive on the defensive end, I wanted to see how we responded to pressure.
Obviously, our experienced kids handled it better than the less-experienced ones. Casteel, as a new school, has only freshmen and sophomores, but are extremely fundamentally sound.

They defended very well, executed their offense, and could shoot the ball. I believe they'll be competitive at DIII this year and will have a very solid team in a few years at the DIV or DV level.