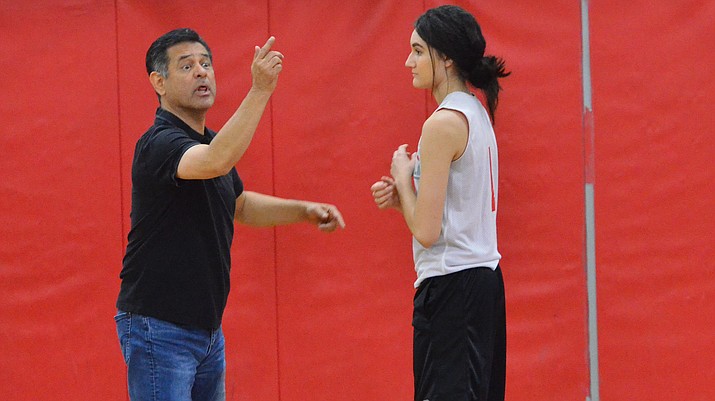 Originally Published: November 22, 2016 1:35 p.m.
What better way to live your faith than to teach it in front a crowd, and a bunch of impressionable young teenagers in a competitive environment.
Emmanuel Fellowship Pastor Frank Nevarez steps from behind the pulpit and now preaches his message to a team that went 6-20, and 2-10 in Sectional play last year.
The new Mingus girls basketball coach must teach this team how to win and how to stay positive when things go wrong.
Practice started Oct. 31 with 11 girls, and Nevarez believes that once the team gets used to his way of doing things and learn to play together as a team the girls will be more competitive and stay in games this season.
"We are going to have a good team I think," Nevarez said. "I want our team to play as one cohesive unit."
With the team playing together in open gyms and their dedication to get better as players, Coach Nevarez believes the Mingus girls are close to turning the corner in the win-loss column.
Coach Nevarez is no stranger to Mingus Union fans as he used to coach Junior Varsity football.
"I want to make a positive impact upon the lives of these girls," said Coach Nevarez. "I've got some good girls. If I can help them in any way, not only with basketball, but in their lives, I will. That's my goal."
Nevarez believes that the biggest way to cause a change in the lives of his players is to treat them like ladies and to respect them. He wants to bring the best out of them on the court and off it as well. He hopes to be a role model for the young ladies. He had a meeting with the parents of the girls playing for him this year and told them, "To me, character means more to me than ability. So, when we lose we will address it and keep our character intact."
Destiny Raz will be counted on to provide leadership and scoring; she hopes to get more wins than last season. She thinks with more ball movement it will free up easier baskets.
On offense look for the Marauders to run a motion offense, and to push the ball when the opportunity presents itself. On defense look for them to go man-to-man, and mix of 2-3 zone.
The Lady Marauders traveled to Dysart Tuesday to open their season.