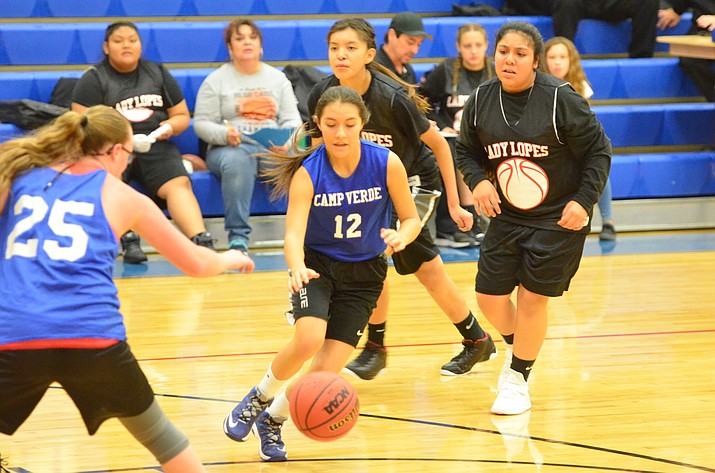 Originally Published: November 22, 2016 1:33 p.m.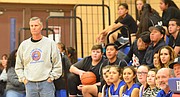 CAMP VERDE -- Practice for the Camp Verde girls' basketball team started the first week of November.
Coach Mark Showers could hardly contain his glee as he taped ankles before practice. He knows that his young team will round into form sooner than later, and that the fruits of his labor from working with some of his players this summer will bear fruit.
Even though he has lost three key seniors from last year's team, the cupboard is not bare. He has three seniors returning, no juniors, three sophomores, and five freshmen. Showers feels like this team will be good for a long time to come. The only thing he doesn't know is how fast the team will come together and can play as one.
Coach Showers likes to joke that this team is so young that when he ordered new uniforms he had to order infant sizes. Showers expects his team to put together more three-game winning streaks like it did last season. His team finished 13-15, and 5-5 in league play.
The Cowboys returns three starting seniors, forward Kayla Hackett, post player Melissa Presmyk, and guard Raiven Alvey. Alvey was the team's best defender last year.
"Right now, this young group, the freshmen and sophomores, have more basketball IQ than a lot of the young groups I've had," Coach Showers said. "I haven't had to spend a lot of time going over things. We have crammed a lot in the last two and a half weeks, going over offense and defense and the inbounds plays. We have put a lot in, and the kids are picking it up."
Coach Showers is impressed that his team is picking up the nuances of the game so quickly. This allows him and his staff to do more fine tuning. The team's starting five is in flux as the Cowboys are dealing with eligibilityand injury issues. He readily admits that the team to beat this year is Sedona-Red Rock.
"Sedona is the best team in our region," said Showers. "We are going to be chasing them. Last year they got to the final four. This is probably their year, if they are going to do anything, it is going to be this year. After this year, they graduate their two post players, which are very solid inside. Our goal is to get the number two spot."
This is Showers' 20th year at Camp Verde, and he is still as hungry as ever to teach the game of basketball to his team and looks to instill a winning attitude to his team. On offense, they want to push the ball up the floor, and on defense they will mix and match man-to-man and zone defense. He believes the rebounding will be there for them this year to force other teams to deal with their running game. Showers is fueled by the desire to go take his team to state. He believes they can be good enough, even with their youth.