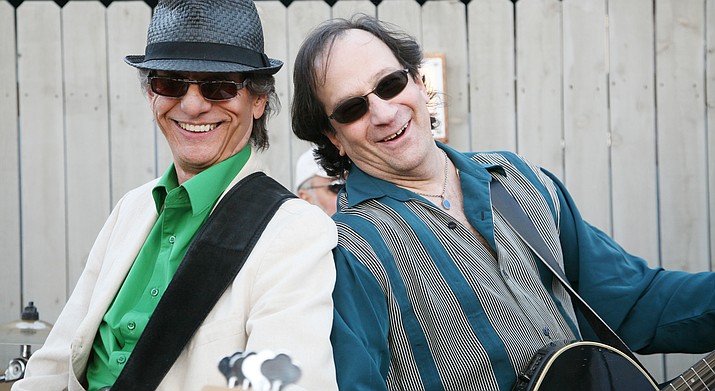 ---
---
The Green Light band returns to Bootlegger's Saloon in Old Town Cottonwood Friday, Dec. 2, 7-11 p.m.
The band plays only original music written by bandleaders Chicky Brooklyn and Tommy Acosta. The original tunes sparkle with great licks and anthem like harmonies you just can't help singing along with.
Music you can dance to; a band that knows how to have fun. This is what Green Light is all about.
Green Light has been steadily growing in popularity and over the years has melded into an extremely tight musical act.
On lead guitar for this show will be J.R. Robusto, one of the top guitarists in Northern Arizona. He brings to the stage a life and luster that can only be described as mesmerizing. Lightning fast leads. Tasty riffs. This guitarist rocks.
On drums for the Bootlegger's show will be Michael Drew Liebowitz. Drew is a seasoned performer who plays with numerous groups in the area. He is a rock-solid drummer and adds a hard edge the Green Light repertoire of original material. His beats along with Tommy's bass lines create a groove people feel in their dancing feet.
Joining the band for the show will be saxophonist "El Jefe." A true professional and virtuoso, El Jefe' gets a tone out of his instrument that grabs you deep inside and pulls you into the groove.
Chicky carries most of the lead vocals. His voice can be as deep as the ocean or as sweet as a songbird's with an awesome range.
With Tommy on bass and vocals, the two songwriters have been playing together for more than a decade as a duo, forming a full band a few years ago that eventually became Green Light. Their songs are punchy, covering the full spectrum of human emotions.
The band always has fun on stage and the banter between songs keeps the audience enthralled and laughing.
"We are looking forward to this show," Brooklyn said. "I think we are really going to have a good time. Bootlegger's is a great place to hang and party."
Bootlegger's Saloon itself is a great attraction, offering both indoor and outdoor seating. Located in Old Town Cottonwood, it's the perfect place to party after a day of checking out the galleries and wine tasting outlets along the Cottonwood Main Street corridor.
For more information visit greenlightrocks.com or call 480-332-2340.