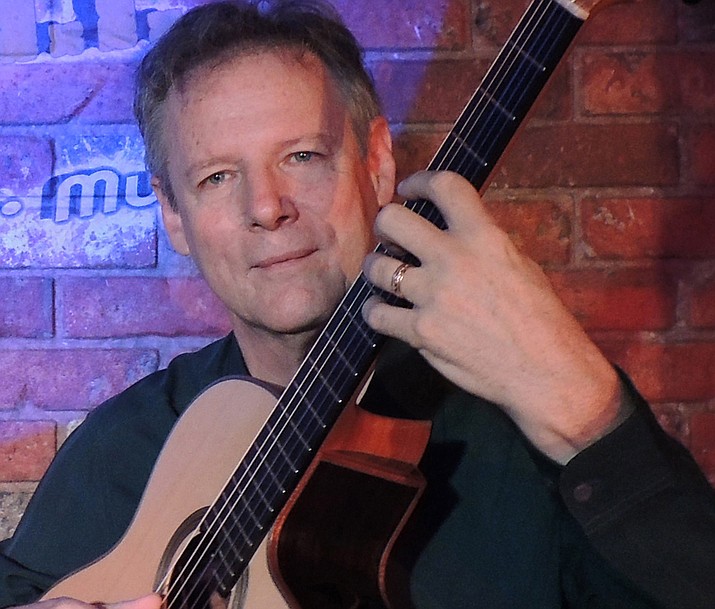 ---
---
Enjoy the unique solo "Guitar Artistry" of Rick Cyge in Sedona this week! On Sunday, December 4 and Tuesday December 6, 2016, Cyge returns to The Golden Goose American Grill in west Sedona for his ongoing weekly dinner performances from 5:30 p.m. until 8:30 p.m.
Cyge showcases his masterful fingerstyle guitar playing with seamlessly layered arrangements of music from greats like the Beatles, Simon & Garfunkel, Billy Joel, Sting, Norah Jones, James Taylor, The Hollies, Crosby, Stills & Nash and The Eagles.
Presenting the spirit of the original pieces in fresh new interpretations, Cyge's exciting offering encompasses Baby Boomer Classics, folk, pop, blues and a little Motown for fun. Original pieces composed by Cyge, including "Blue Sedona" and a nearly endless selection of Beatles tunes round out the musical menu. Sit back and enjoy!
Cyge's debut solo recording, "GUITARtistry: The Fingerstyle Guitar Music of Rick Cyge," will be available for purchase and his new release, "GUITARtistry 2" will be available for pre-release purchase during the performances. See video and hear sound clips at www.rickcyge.com.
Also, this Friday, December 2, 2016 Cyge will be performing with flutist Lynn Trombetta, aka Meadowlark at Hillside Sedona for Sedona's First Friday event, 5:00 p.m. until 7:30 p.m. Hillside Sedona is a trolley stop for the fun-filled evening at 671 Hwy.179, in Sedona. For information, please call 928-282-4500.
The Golden Goose American Grill is located in west Sedona at 2545 W. Hwy 89A. For dinner reservations and to request seating near the music, please call 928-282-1447.