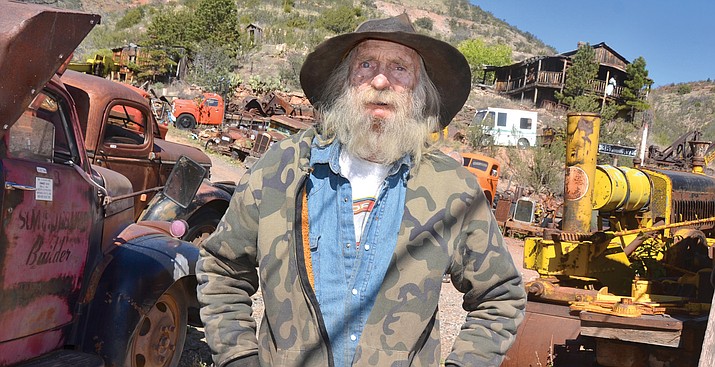 Originally Published: October 18, 2016 2:24 p.m.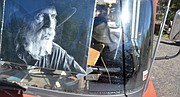 JEROME -- Don Robertson's engine may have stopped revving on Monday, but the pistons that he brought to Jerome will continue to ring out throughout the valley as his family says the Gold King Mine and Ghost Town will remain open and operating as a tribute to the man's life-long work.
Jeannie Leffew, Robertson's stepdaughter who is current owner and manager of the mine, said the popular and unique attraction will continue as a tribute to Don and her mother Terry Robertson, who started the mine and ghost town 30 years ago. It will continue just as her parents want it to be, she said.
Gold King Mine and Ghost Town was open as usual on Tuesday, but one of Don's old trucks was parked in front as a memorial with photos of the popular Jerome resident. Photos of Robertson and his machines can be found all over the Internet and Youtube.
People are welcome to leave flowers on the flatbed truck for Don in front of the Gold King Mine and Ghost Town building, according to the family.
Don had a very peaceful passing in hospice on Monday, Leffew said. Several memorials are being considered, she said. One possible tribute will be a car show in the spring that will include all the people who want to recognize Don, she said.
Robertson, 73, was the owner of the Gold King Mine and Ghost Town which sits about a mile above Jerome.
His business or "kingdom" started out with one building -- a boarding house used by miners -- and a love for engines and trucks. Robertson built his dream with two bare hands, monkey wrenches and elbow grease.
Thirty years later, it has grown into "a dream come true," explained Robertson in an interview with the Verde Independent last summer.
Visitors are now flocking from all around the country and Europe to see Jerome's keeper-of-the-gold, his carriages and his merry minstrels who work for him.
From the sky, Robertson's ghost town looks like a child's playland with hundreds of tiny toy trucks scattered among tiny buildings in a sandlot.
Robertson estimated that he has about a 100 trucks and other vehicles. But a closer look reveals that the hundred trucks, cars, tractors, service trucks and buses lined up around the property are very real and very "rare." Some are restored, but many are rusted have been saved from extinction and are getting a second chance at life
"If I asked you to draw me a picture of a 49er miner - - a guy with a mule, a pick and shovel - - it would be Don," said Jerome Police Chief Alan Muma. "In 20 years' time, he hadn't aged."
"He was a big-hearted soul with a side of orneriness," said Muma. "He had this Indian motorcycle with a really loud motor. To stay out of trouble, he'd ask me, 'Get your sound meter out and check me' and as long as he kept his hand off the throttle, he would stay out of trouble."
"They had a contest for loudest motorcycle and he opens that thing up and it was louder than anything I heard that day," Muma said. "I head out to Gold King Mine and I'm giving him a ticket and he said, 'You know, it was worth it.'"
Although Jerome Mayor Lew Currier says he didn't know Robertson all that well, he does know how the Gold King Mine property looked before Robertson took over the Freeport McMoRan lease.
"It consisted of an old miner shack and that was pretty much it. He just appeared one day and started dragging-in attractions. It became an interesting little place," said Currier.
"He had a snow plow and he used to come in the winter and help us keep the street clean, though we didn't have any formal relationship," Currier said.
Describing the Gold King Mine as "an acquired taste," Currier added, "I wish his family the best and I am sorry to hear of him passing."
Perhaps Al Palmieri - - former Jerome Mayor, Town Manager and Councilor as well as member of the Jerome Chamber of Commerce and Historical Society said it best:
"I don't know how he was with everyone else," said Palmieri. "Hidden inside his exterior was a very warm, friendly person."
In his last interview with the Verde Independent, Roberson was asked: What would happen to the Gold King Mine and Ghost Town when he was gone, Robertson said with a smile, "I don't know. I get asked that more often. I must be looking older."
Leffew on Tuesday morning said the Gold King Mine and Ghost Town will be "improved" and it will be "better" with maybe have more shows. It will be just like her parents wanted it to be, she said. It will continue to celebrate them, she added.