Haunted House, Fall Carnival ready to fright, delight community
Creepy, kooky, mysterious, spooky
Originally Published: October 29, 2016 2:43 p.m.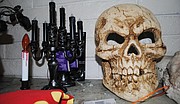 COTTONWOOD – Cottonwood Parks and Recreation is gearing up for Halloween, assembling a spooktacular Haunted House and preparing for the 21st annual Free Fall Carnival.
Haunted House
The Cottonwood Youth Advisory Commission is sponsoring a Haunted House at their location at 215 E. Pima. Those who dare may wonder through Saturday from 7-10 p.m. (ages 13 and up), and Monday from 6-9:30 p.m. (ages 10 and up). Admission is $5.

Younger children are discouraged from entering because of the fear factor.
"I want to make this scary. I want to scare all the teenagers. That's my goal," said Kirsten Hastings, Youth Programs Coordinator. Anyone 10 and under needs to be with an adult, she said.
"This is Kirsten's brainchild," said Hezekiah Allen, Recreation Services Supervisor.
Hastings has done her research to turn the Youth Center into a house of horrors, complete with jump scares, a maze, and all things that go bump in the night.
"It's been a lot of fun so far," she said.
A canned food drive will take place in conjunction with the Haunted House to benefit the community. Attendees who bring in some canned food items will get a reduced admission fee of $1.
"We're coming into Thanksgiving, and we wanted to raise some food for the Mission," said Hastings.
Free Fall Carnival
Cottonwood Parks and Recreations, in conjunction with the Old Town Association, will be hosting the 21st annual Free Fall Carnival Monday night at the Old Town Activity Park.
The carnival will feature bouncy rides, games, a costume contest, and heaps of free candy.
"Lots and lots of candy," emphasized Hastings.
The carnival is a fun, safe place for children of all ages, and can be an alternative to traditional trick-or-treating.
There will be a costume contest for boys and girls ages 2-12. Prizes will be awarded to the pretties, scariest, and most original in two age groups: 2-7, and 8-12. To enter, head for the stage in the middle of the field at 7 p.m.
Head for the stage in the middle of the field at 7 p.m. to enter.
The park is located at 187 E. Pima St. in Old Town.
More like this story
SUBMIT FEEDBACK
Click Below to: